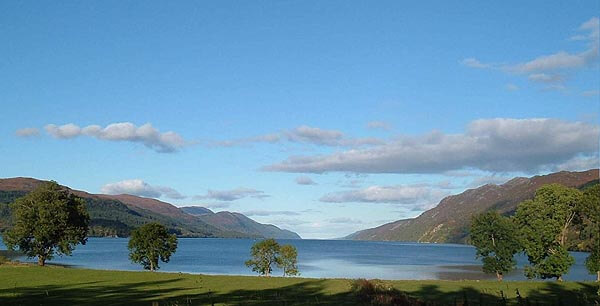 Loch Ness in Scotland is famously known for the Loch Ness Monster affectionately called 'Nessie'. The loch is a large body of water; loch means lake. Inverness is on the northeastern tip of Loch Ness, Invernmoriston and Drumnadrochit are in the center and Fort Augustus is located on the southwestern end. Loch Ness is 23 miles (37km) long, 740 feet (226 meters) deep, and contains the largest volume of fresh-water in the British Isles.
Fly or bus into Inverness, the largest city on the loch, and after checking out the many sites there, take the A82 road, hiring a car will be the easiest, which runs west along the loch to Drumnadrochit.
In Drumnadrochit you can stay in a hotel and take in all the glory of Nessie merchandising. There are two Loch Ness Monster Exhibition centers around this area, which explain the origins, myths and legends surrounding the loch. This the stop to buy your Nessie t-shirts and keychains. While here you can book a cruise along the loch which is one of the best ways to see it all and get up and close with the legend herself.
The other must see in Drumnadrochit is what is left of Urquhart Castle. The history of this castle, which includes a story with Robert the Bruce, can be watched in an audio-visual presentation in the castle.
At the southern most tip is the mouth of the Caledonian Canal, a wonder to behold. See the canal against the backdrop of the highlands. It cuts through the Great Glen with a series of locks to connect the bodies of water so ships can navigate from Fort Augustus to Inverness.
For the more physically fit out there is The Great Glen Way, it is a 72 mile trail running from Fort William on the south to Inverness in the north along the western side of the loch. This trail gives the hiker a view of the less crowded areas of the loch. Whether you hike the entire trail or walk small parts of it in between cruise stops you will be rewarded with the true highland beauty only Loch Ness can provide.
Advertisements:



Photo by conner395 on flickr
You should follow me on twitter here.