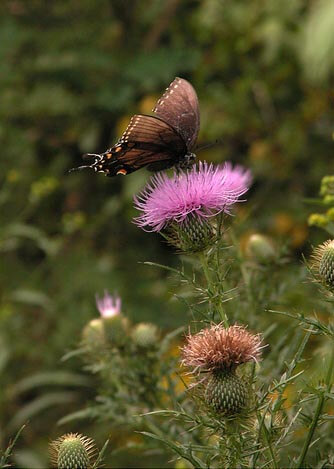 Raven Run Nature sanctuary near Lexington, Kentucky is a popular resort for nature lovers who enjoy trekking. Raven Run is spread over 734 acres and it preserves the natural beauty of Kentucky River Palisades and show cases the early history of Kentucky. Trekkers love the hiking trails that take them cross streams and through meadows and woodland. Early settlements dot the nature sanctuary. Hundreds of plant species provide a visual treat for the visitors. More than 200 species of birds that make the sanctuary their home add to the beauty of this nature reserve. Every effort is made to protect nature as well as the visitors.
Visitors are permitted to use only the trails that are clearly marked. All activities are confined to areas around the trails. Since water is not provided at the nature centre or the sanctuary, visitors are advised to bring their own water supply. For the safety of the visitors, they are required to sign in at the Nature Center both when they enter and leave the sanctuary. Parking is permitted only in designated areas. Certain activities like running, biking along the trails, picnicking outside the designated areas, and unauthorized camping are strictly prohibited. Visitors are not permitted to bring pets, fire arms or alcoholic beverages. No fires may be lit and nothing in the sanctuary, living or non-living, may be collected or damaged.
The Nature Center is located at the entrance of the trails. It has many interesting displays as well as a number of 'hands on' exhibits. The centre also provides informative pamphlets about the fauna and flora of the sanctuary. Staff members of the sanctuary as well as volunteers are available to help visitors. The sanctuary receives a lot visitors and is excellently suited for scout activities. Raven Run is easily reached from Lexington which has hotels that will suit the budget of most visitors and also offer special deals and packages for groups.
The sanctuary is open from 9am to 5pm through out the year except on Thanksgiving and three days during Christmas. Information regarding the sanctuary calendar of events, public or school activities, and trail maps could be had from the Recreation Center on naturalist@lexingtonky.gov.
Advertisements:



Photo by jennifermelchiore on flickr
You should follow me on twitter here.