Introduction to Glasgow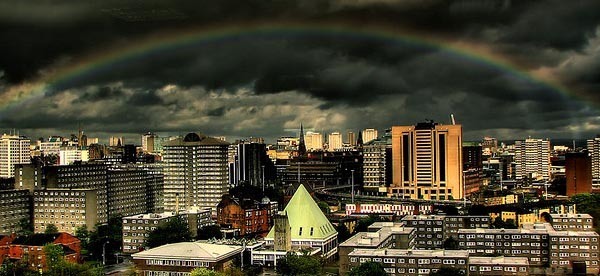 Glasgow, Scotland, is the largest city in the country. It can be described as upbeat. It has not always enjoyed the best reputation. The city is on the banks of the River Clyde and was a former industrial giant which still can seem gray and depressing. The residents are known as Glaswegians. In 1980 the city was much gentrified to what it is today.
Know matter what climate you enjoy you will find Glasgow can accommodate you. The area is one of Scotland's mildest areas. Winters are chilly, damp and overcast with a mean temperature of 40° F but can drop below freezing. It does snow but rarely lies in the city center. Spring brings out the flowers and trees and the gardens are beautiful. Summers are mild and wet or warm and sunny with high's in the upper 60's in July but can go as high as 88 but that is usually in August.
While visiting Glasgow there are many things to see and do. Tour the People's Palace or view Doulton Fountain in Glasgow Green. Are you in the mood for a premier museum and art gallery then you need to head off to Kelvingrove Art Gallery and Museum and House for an Art Lover in Bellahouston Park.
If you are interested in the theater you are in luck because Glasgow has several including The King's Theatre, Theatre Royal and the Citizens Theater. So buy a ticket and enjoy the evening at one of them
Glasgow has many festivals for you to take in also for instance Glasgow Fair, Glasgow Film Festival, and the International Jazz Festival to name a few. The city also hosts the Glasgow and World Pipe Band Championships. Just imagine a band of talented bag pipers.
Glasgow has many places where you can enjoy live music, in both pubs and clubs. The best known is the Glasgow Royal Concert Hall even though it is something much grander than a pub! In 2010 Glasgow was named as the 4th most musical city in the UK.
When walking or driving around the city take note of architecture. The interesting old such as the Provand's Lordship home and the new Sir Norman Foster's Clyde Auditorium which is built to resemble an armadillo. It is a very interesting contrast.
Be you a Packer fan or Steeler's fan you can enjoy American Football in Scotland at Hampdon Park. Scottish football is much more like cricket.
The city has many fine hotels and guesthouses. You have a wide variety of food to choose from also. You can pub grub on meal and fine dining at the next at Café Serghel who's menu is quit impressive. If that doesn't appeal to you they have Greek and Italian restaurants also.
So pack you Kilt and get your passport and plane ticket for an exciting fun packed adventure to Glasgow.
Photo by innoxiouss on flickr