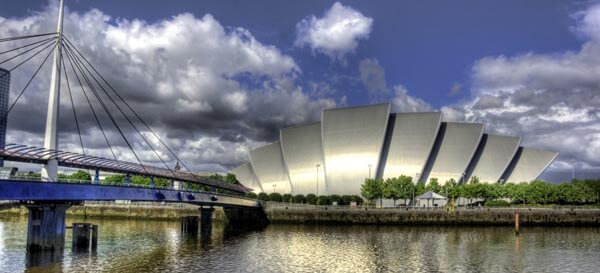 Never has a building been given a more aesthetically appropriate name as 'The Armadillo' - officially known as Clyde Auditorium in Glasgow, Scotland. Taking on the appearance of its animal namesake, and from some angles showing a similarity to the famous Sydney Opera House in Australia, this iconic venue is located at the Queen's Dock, on the River Clyde, and has a seating capacity of up to 3,000.
Advertisements:



The local area's maritime history is also reflected in the shape of this building, with some arguing that it resembles an up-turned boat with no windows, mainly because it is used predominantly for concerts. One thing is for certain, and that is that the auditorium has brought about a much-needed modernization for Glasgow, as well as increasing tourism significantly. With high-profile performers such as Pavarotti, and The Bolshoi Opera and Ballet, it wasn't long before Glasgow was honored with the title of European City of Culture.
The idea for the structure was born in 1979 with a budget of 36 million (GBP), and took 4 years build, from initial proposal, to full completion. Funding for the building came from various sources, including district councils, private shareholders, and a number of other private sectors. The Clyde Auditorium was officially opened by the Queen at a ceremony which took place during the Scottish Motor Show in November 1985.
For those who have not heard of 'The Armadillo', it may be more recognizable as the venue at which singer, Susan Boyle of Britain's X-Factor fame, was discovered during her performance on said TV show. The auditorium was also host to series 1-4 of Britain's Got Talent, and brags performances from many high profile people.
The auditorium's location - west of Glasgow's city center, allows for easy access to visitors, conference delegates, and performers alike, and it can't be argued that such a modern, purpose-built structure, adds a charming quality as Glasgow's most modern landmark, and has rapidly grown to become a leading venue for European conferences.
Sir Norman Foster's Clyde Auditorium address and hours
Clyde Auditorium
SECC
Exhibition Way
Glasgow
G3 8YW
Photo by Wojtek Gurak on flickr
You should follow me on twitter here.