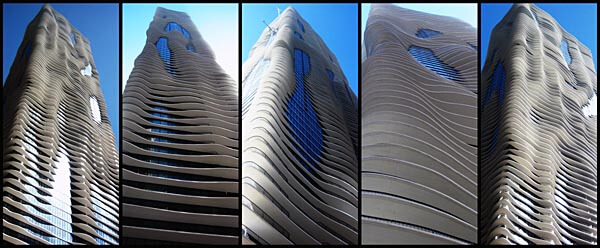 Rising 82 stories over downtown Chicago, the Aqua Building received the 2009 Emporis Skyscraper Award as the best new skyscraper for design and functionality. The Aqua looks more like a piece of sculpture than a skyscraper, and its white, delicately thin balconies seem to ripple along the sides of the building. It is the tallest building in the world designed by a woman, Jeanne Gang, as lead architect.
Advertisements:



Looking more like a rock formation than a skyscraper, the Aqua has a rippling façade with an immense green garden roof. The eight floor terrace over its entrance includes hot tubs and a running track. Some of the building's amenities include a swimming pool, a library and a billiard room. Formally called a mixed-use residential skyscraper, it has a level of parking below ground.
Two spectacularly sculpted concrete stairways lead pedestrians from the street system at Columbus Drive and the park at Lakeshore East. The Radisson Blu Hotel is located in Aqua, along with offices, retail space, apartments and penthouses. The building's location is near the Chicago River and Lake Michigan, thus the name Aqua. Construction took four years at a cost of $475 million and was given a Leadership in Energy and Environmental Design silver rating from the U. S. Green Building Council. Because its curved balconies are designed in such a way that birds will be able to see and avoid them, Aqua won an award from the People for the Ethical Treatment of Animals.
Photo by clarkmaxwell on flickr
You should follow me on twitter here.