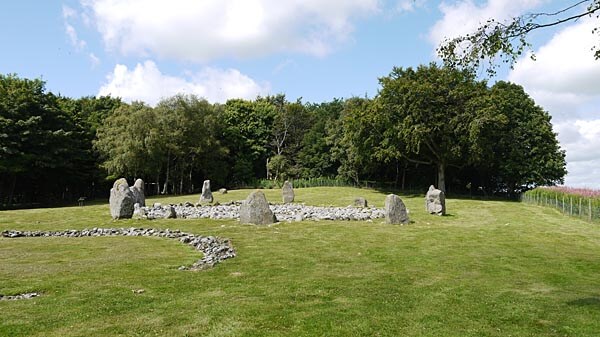 Though many people may be familiar with the famous Stonehenge circle of stones, what they may not realize is that stone circles are actually fairly common in the British Isles. Located in northeast Scotland, the Loanhead of Daviot stone circles are just such a monument, and a beautiful one at that. Originally, these types of "recumbent" circles (so named because their stones are set horizontally on the ground, rather than upright) were used by the farming communities of over 4,000 years ago as a lunar calendar. More recently, the descendants of the circles' builders used the area inside the recumbent circle as a venerated area in which to bury their dead.
Set on a hilltop in Aberdeenshire, the Loanhead of Daviot circle has fantastic views to the surrounding countryside. The diameter of the circle is an impressive 20.5 or so meters (67 feet). Visitors will be amazed at the sense of history that practically emanates from this most-famous of the recumbent circles in the area, as well as its accompanying nearby burial enclosure. Travelers will also be pleased by the array of hotels, inns, guesthouses, and bed and breakfasts in the region. Other nearby attractions include the Well of the Lecht and many impressive lighthouses along the coast.
Loanhead of Daviot location
Advertisements:



Loanhead of Daviot
Nearest town is Inverurie, and it's located next to the village of Daviot
| | | |
| --- | --- | --- |
| OS Ref (GB): |     | NJ747288 / Sheet: 38 |
| Latitude: | | 57° 20' 56.57" N |
| Longitude: |     | 2° 25' 13.66" W |
Photo by martyn jenkins on flickr
You should follow me on twitter here.