Finding yourself in Scotland, the Callanish Stones can not be missed. While the stones can be found in various locations, which will be referenced below, the stones in Hebrides are some of the most beautiful stone circles and rows. Located on the Isle of Lewis, Outer Hebrides near the town Stornoway and village Callanish, you will find a site that dates from around 1800 BC. The stones themselves are Lewisian gneiss. You will find the Calanais, also refereed to as Callanish I. Folklore and science have explained the stones in different ways and you will be delighted to learn of these stories as well as visit this magnificent circle and line of ancient stones.
Advertisements:



Also on the Isle of Lewis, Outer Hebrides near the town Stornoway and village Callanish you will find Cnoc Ceann a Gharaide, also known as Callanish II. There are five stones which remain upright and two have fallen to form an ellipse. Near here as well you will find Cnoc Filibhir Bheag, known as Callanish III. This site is near peat cuttings and is on a low ridge. The stones themselves form two concentric ellipses. Ceann Hulavig, also known as Callanish IV, is located near the town Stornoway and the village Garynahine. On top of a hill you can view a low central stone enclosed enveloped by an oval setting of five upright stones. There are also several other circles nearby.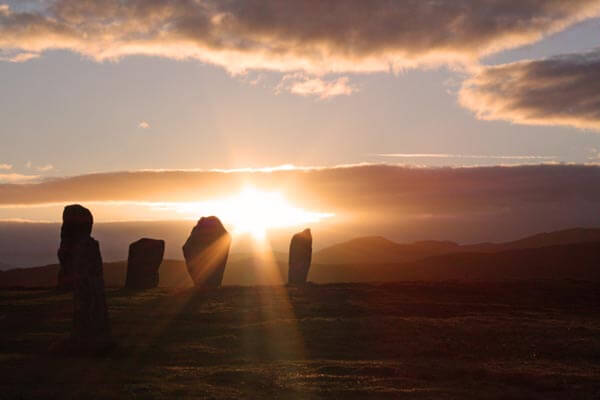 Other stone circle sites in Scotland are well worth the traveling and destination. You can visit Cullerlie, located near Aberdeen which was used as a burial ground. Located near Inveruie you can visit the Easter Aquhorthies made of stones of pink porphyry and one of red jasper. Also near Inverurie you can visit the Loanhead of Daviot, set between to rivers. One breathtaking site located near Stromness is an impressive twenty-seven remains of an original sixty known as the Ring of Brodgar, also known as the Temple of the Sun and the Temple of the moon. Sunhoney, located near Branchory stands surrounded by an ancient forest of ash, pine, oak, maple and beech. Finally, another quaint location is that of Temple Wood, located near Lochgilphead, an almost perfect circle.
Photo by JaredEarle (1) and Donald Macleod (2) on flickr
You should follow me on twitter here.