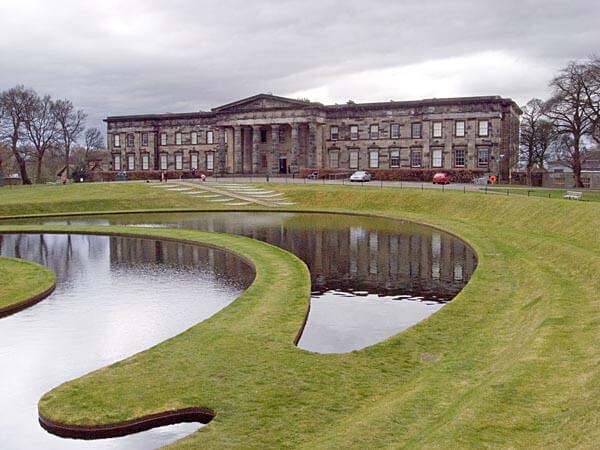 The Scottish National Gallery of Modern art is breathtaking and a must see when visiting Edinburgh. There are two other National Galleries that are a must see as well, the Scottish National Gallery and the Scottish National Portrait Gallery, they are all free of charge and well worth the time spent. The Gallery of Modern Art is set up for a family museum trip as well, parents are please with free parking, a coat room where backpacks and umbrellas can be checked and with interactive touchscreen computers, children's workshops and family activities, there are ramps and facilities for breast-feeding mothers as well! You can explore the museum on your own or make a plan using their floor plan and recommended "must sees." The Dada and Surrealist collection is adjacent to a special library.
The Scottish National Gallery of Modern Art is housed in a spectacular setting, with grounds that are worth the trip to see themselves. The grounds have sculpturesss on them by Tony Cragg, Henry Moore, Rachel Whiteread, and Barbara Hepworth. It is landscaped to create Lanform Ueda, which is a stepped and serpentine-shaped mound with crescent-shaped pools of water, absolutely fantastic! This is a living work of modern art based on the chaos theory! There is no other site like it in the world. There are two buildings, each with it's own rich history. Art House One was a former institute for fatherless children, the John Watson's School. The Art House Two was the former Dean Orphan Hospital. Each of the galleries offer a spectacular array of modern art with permanent and traveling collections.
Scottish National Gallery of Modern Art address and hours
Scottish National Gallery of Modern Art
75 Belford Road
Edinburgh
EH4 3DR
Open daily from 10am to 5pm. Admission is free.
Advertisements:



Photo by pixelsandpaper on flickr
You should follow me on twitter here.