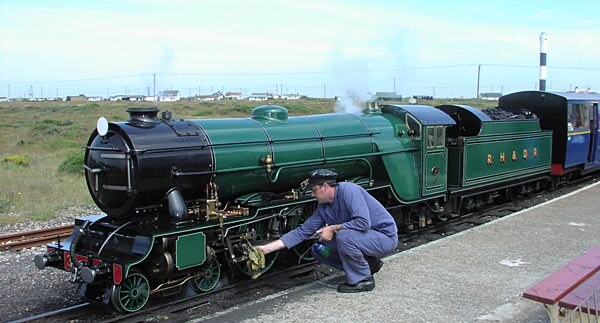 I had long wanted to pursue my dream of taking a sightseeing trip on a train, and my research led me to the Romney, Hythe & Dymchurch Railway in England. My journey would begin in Hythe, making five stops along the way to end in Dungeness.
As a lover of all things water-related, I was excited to discover that the Hythe station was adjacent to the Royal Military Canal. I have long admired the many British canals, however this was my first time to see this particular canal.
Before boarding the train, I arrived early and took the opportunity to visit the town of Hythe, a mere 20-minute walk from the depot. There was plenty of shopping and food was abundant; and I enjoyed sampling one of the fine desserts from a restaurant which was frequented by the locals. After finishing my dessert, I proceeded to walk down to the Seafront, along the way passing a community swimming pool where dozens of kids were apparently involved in a belly flop splashing contest.
Advertisements:



The first stop aboard the train came at Dymchurch, a quaint little seaside town with plenty of history and lots of recreation. My time was spent walking along the sandy beach and visiting a local church.
Back aboard the train, I had a brief nap before arriving at the next stop in St Mary's Bay. I enjoyed visiting the local shops, walking along the beach and joined in a brief game of football at a nearby park.
The next stop was New Romney, another seaside town, where I enjoyed walking through the beautiful St. Nicholas Church, sat down for a snack at the Heywood Buffet and checked out a local golf course.
Next came Romney Sands, where I enjoyed a long walk along Greatstone beach before having a few drinks in Romney Tavern with a few new friends I had met during the trip.
The final stop was Dungeness, where I enjoyed another long walk on the beach and up hundreds of stairs to the top of The Old Lighthouse. Afterward, I met up with friends in the area who took me on a sightseeing tour of Dungeness.
All in all, my first ever train trip was very enjoyable.
Photo by Eyebee on flickr
You should follow me on twitter here.