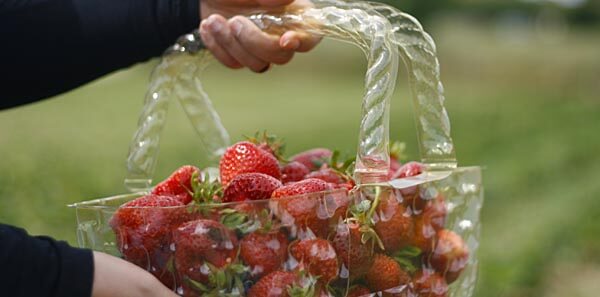 Imagine a vacation destination in early spring and finding your fill of fabulous strawberries! There is literally something for the archaeologist in us as well as the berry lover in us all. Of course, if you are allergic to strawberries, this could become a little bit of a problem as this is the theme, but don't fret, you will still be able to eat and drink like a king or queen with the long standing tradition of French cooking and enjoy the prehistoric art prevalent in this area!
Some of the most lovely sights a person can see in the world are fields of strawberries or a marketplace drenched with the luscious smell and beauty of the strawberry. There is no finer place to witness this than in Dordogne region of Aquitaine, France, known for its intriguing prehistoric art, mouth watering French cuisine and the holiday of the Strawberry Festival. Held during the month of May every year visitors flock to see the worlds biggest strawberry tart and of course, witness the wonders of vast amounts of harvested succulent strawberries!
Different festivals offer different attractions yet the theme is the same, strawberries. Did you know you can taste strawberry vodka? How does a strawberry beer sound? Cheers!
The tradition of baking the largest strawberry tart can be found in the Festival in Beaulieu-sur-Dordogne. Bakers create an enormous tart which is later served to the festival's participants. Enjoy crafts, a strawberry market and live music as well.
There are numerous websites and discussions, even blogs dedicated to the Strawberry Festival in the region and the Beaulieu-sur-Dordogne festival itself. Plan your visit well in advance, book a hostel or bed and breakfast or hotel early and spend your time exploring the vast opportunities that this region has to offer. You are sure to find wonderful local arts, spirits and strawberries intoxicating to the senses and quite a unique trip to talk about, especially if you are lucky enough to get a piece of the tremendously large and famously made strawberry tart!
Advertisements:



Photo by » Zitona « on flickr
You should follow me on twitter here.