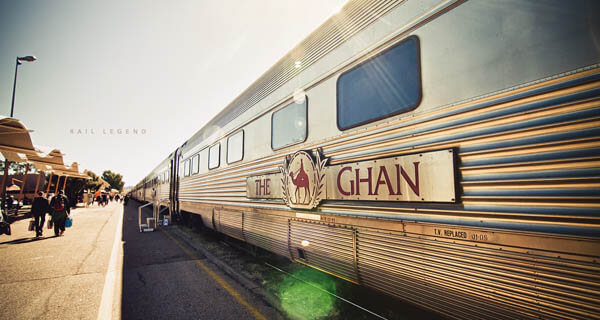 The "outback" of Australia is a fascinating place with lots of red-colored landscapes and lush green fields stretching out across the horizon. One great way to see the outback is by train, in particular the Ghan train. "The Ghan" was first a narrow gauge railway and only ran half way through the outback but in 1980 the railway was completely rebuilt on standard gauge rails and 2004 it was extended as far north as Darwin. It now runs 1,851 miles and takes three unforgettable days and offers an unsurpassed view of Australia. The railway was named after the Afghan cameleers who once used the route the train now takes.
The Ghan usually runs twice a week from Adelaide in southern Australia to Darwin in the north. Due to the current financial crisis in the world the service has been reduced to weekly from November to March.
The train makes stops at Katherine and Alice Springs, the midpoint of the route, to allow time for the riders to take optional tours. You can leave the train at any point to tour and hop back on thus making this an extraordinary opportunity to discover the countryside.
Advertisements:



At the northern end of route the area is tropical and the landscape is mellow. The middle in the Alice Springs area is considered the "red center" and this is the true outback. The far south end of the route is subtropical.
The Ghan is a great way to see Australia, away from the big cities.
Photo by [ embr ] on flickr
You should follow me on twitter here.