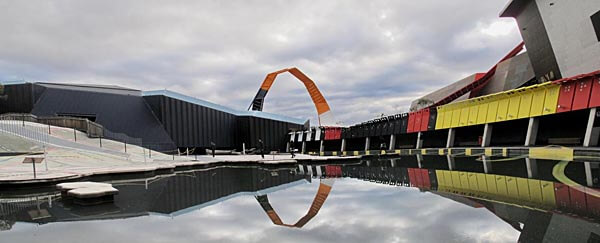 The National Museum of Australia located in Acton Peninsula, Canberra is a fantastically unique museum with more than 200,000 pieces representing Australia's historical path ranging from Torres Strait Islander and Aboriginal history to society in Australia since 1788. One of the most terrific collections in the museum is that of people interacting with the environment, or environmental arts. From the artist and farmer Diana Boyer's photographs, sketches and paintings to a completely preserved body of a Tasmanian tiger this museum has much to offer visitors who wish to be engulfed in the rich Australian culture and historical events.
Visitors with families will be pleasantly satisfied with the efforts the museum makes to be a children inclusive environment. With an extensive interactive and educational on-line programs, a family can begin their learning prior to the trip, including learning about Aussie English and researching a traditional Saibai Island canoe! Holiday experiences can also be booked during school holidays for Australian children. Educational programs and tours are also available. The National Museum Shop offers delightful arts, crafts and more, designed to fit any budget. The museum offers suggested itineraries and guided tours.

The National Museum hosts exhibitions which are permanent and traveling. Temporary exhibitions are usually hosted for around 3 months and many are free of charge. Venturing into the museum will give you a rich understanding of Indigenous and modern Australian culture, interesting facts and tidbits and great visual and conceptual understanding of Australia's diverse culture. The building itself an architectural achievement, reflecting the diverse collection of the museum. The visually stunning structure sits within a gorgeous environment on the Canberra's Acton Peninsula. The jigsaw- like structure and the fantastical loop envelops the central Garden of Australian Dreams. This garden is filled with Australia's multitude of stories by incorporating symbolism on a huge tapestry of maps. The National Museum of Australia examines and celebrates the dynamic social history of Australia and is not to be missed on a trip to Canberra.
National Museum of Australia address and hours
National Museum of Australia
Lawson Crescent
Acton Peninsula
Canberra
Advertisements:



With a free general admission and opened 9-5 daily (closed on Christmas Day)
Photo by Rmonty119 on flickr
You should follow me on twitter here.