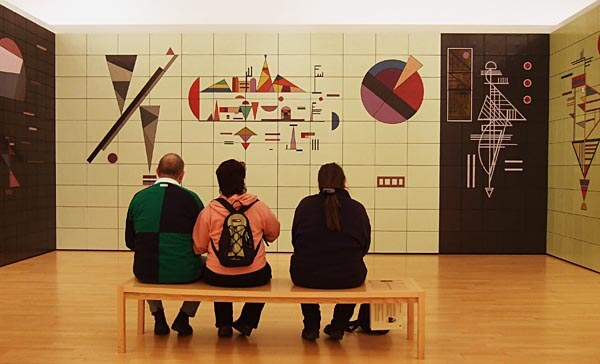 The Musee d'Art Moderne et Contemporain in Strasbourg (MAMCS) is one of France's best modern art collections. It also succeeds in being incredibly accessible and enjoyable; too often modern or contemporary art museums appeal to a niche, "in" crowd, but MAMCS has broadened the appeal to anyone at all. The setting itself is a great venue - acres of glass give the whole of the display an open and airy feel which complements the works on display.
MAMCS is split up into several different sections that are easy to negotiate if you have a particular interest. Broadly these cover Fine Art, Graphic Art and Photography but with such a broad selection of works it is well worth spreading your time among them. The period covered is from around the 1870s to the present day and all major artistic movements are represented, which makes for a huge array of styles. MAMCS has a very active purchasing policy and is actively encouraging artists and Strasbourg as an artistic city. Modern day artists are showing right alongside Braque, Rodin, Monet, Gaugin, Kandinsky, Klee and Arp. The hanging has been carefully considered to be thought-provoking.
There is a very diverse collection and it is well worth spending the day here. Even the simply curious will find many pictures, photographs and installation that they are drawn to, and the more you explore, the more you will find. As a showcase for modern art it is a fantastic facility and the quality of the works on display make for a great day out. There are constantly temporary exhibitions on and the museum itself is frequently changing what is on display, utilizing their massive collection, so even if you have been before, another visit is sure to turn up plenty of new discoveries. Recommended to the modern art lover and the day tripper alike.
Musée d'Art Moderne et Contemporain address and hours
Musée d'Art Moderne et Contemporain
1, place Hans Jean Arp
67000 Strasbourg
Advertisements:



Open from 10 am to 6 pm.
Photo by kiwikewlio on flickr
You should follow me on twitter here.