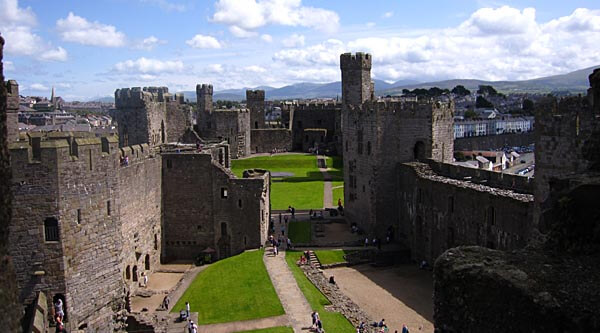 One of the most awe-inspiring sights in Wales is Caernarfon Castle. Built by King Edward I. Before this, there was a motte-and-bailey castle that dates back to Roman days. King Edward I built three castles during 1283 when he won back Wales. The three castles were extremely impressive for their time. However, he designed Caernarfon Castle different than the rest. It has banded colored stones throughout the structure and the towers are polygonal instead of round. It is said that the design was influenced by his desire to assert his authority. This castle became the center of government for the entire north part of the country.
Over the centuries, it has been besieged many times. When the Tudors reigned, the castle was neglected and has fallen into disrepair. Despite this disrepair, the Caernarfon Castle was besieged three times during the English Civil War. In the 19th century, the state funded repairs on the castle and it has played a role in the 1911 investiture of the Prince of Wales and then, again in 1969. Today, the outer walls stand strong but, most of the inner buildings no longer survive. It is the most famous of Welsh castles and still has a commanding presence. The castle is open for tours almost every day of the year. You can purchase a three or seven day pass that also gives you admission to the other historic sights of Casw, as well as Caernarfon Castle.
Caernarfon Castle location and hours
Caernarfon Castle
Caernarfon, Gwynedd, north Wales
SH477626
Open 9.30 am to 6 pm in high season, closes earlier in the off season. Closed Christmas and New Year's Day.
Advertisements:



Photo by dirtykoala on flickr
You should follow me on twitter here.