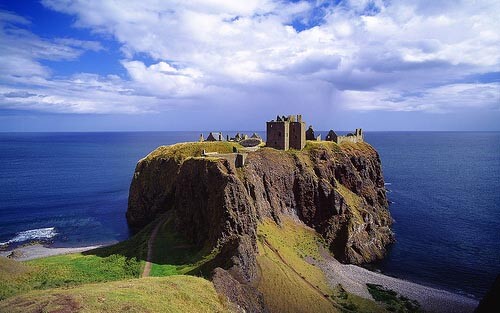 The Dunnottar Castle is located on the rocky coast Aberdeenshire in north-east Scotland and is a well know historic landmark. This castle has been in movies and T.V. with the buildings standing remaining from the 15th and 16th centuries. The castle dates back beyond that but the exact dates are unknown. The site of the castle is a major stopping point for tourist and hundreds of thousands will visit in a years time. The cliffs bordering the castle are also a bird sanctuary for ocean going birds.
Dunottar Castle was mentioned as far back as the 600's AD with references to Danish Viking's in 900 AD battling against King Donald II. Today it is owned and maintained by the Cowdray family who still leave it open to the public on a daily basis. The castle has two steep paths that lead to it from parking areas. There are not that many places in the world that can be such a direct link to the Dark Ages but this is sure one of them.
Dunnottar Castle address and hours
Dunnottar Castle
Located just off the main A92, Stonehaven/Montrose road , less than two miles south of Stonehaven, Aberdeenshire
Post Code AB39 2TL
Phone: +44 1569 762173
18th October 2010 - 21st April 2011
Daily 10.00 am - sunset or 5pm (whichever is earliest).
Good Friday 2011 - 17th October 2011
Daily 9am - 6pm
Opening hours are weather permitting. Last ticket must be purchased 30 minutes before closing.
Prices
Adults £5
Children (under 16) £1
Season Pass £7
Advertisements:



Photo by miquito on flickr
You should follow me on twitter here.