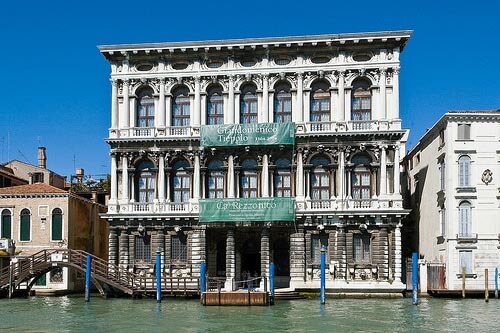 The Ca' Rezzonico Museum is one of the major attractions that you should never miss when visiting Venice, Italy. The museum, situated on the Grand Canal, is a grand palace which depicts the Venetian aristocratic home of the 18th century. In Italian, the museum's name is Museo del Settecento Veneziano.
Construction of this magnificent palazzo was started by the Bon Family in 1649. Venice's leading Baroque architect, Baldassarre Longhena, was the architect of the palace. But in 1682, due to Longhena's death and financial crisis, the work had to be stopped. Later in 1751, the palace was bought by Giambattista Rezzonico and its construction was completed in 1756 under architect, Giorgio Massari. Ca' Rezzonico has three floors, and each floor adorned with magnificent paintings of Venice's greatest artists like G. B. Tiepolo, Francesco Guardi, Pietro Longhi, Visconti, Crosato and Canaletto will take your breath away.
Advertisements:



Tickets to the palace can be bought at the ground floor. The first floor has twelve rooms. The rooms are decorated with furniture, tapestries and many other artifacts not only belonging to the Rezzonico family, but also from other aristocratic Venetian homes of the 18th century. It has a lavishly frescoed gigantic 5,600 sq. ft. ball room. The ceiling frescoes were painted by G. B. Tiepolo, Crosato and Visconti. The ball room has two large ebony statues of "Ethiopian Warriors" made by Ardrea Brustolon. The Nuptial Allegory Room ceiling has the painting which depicts the marriage of Ludovico Rezzonico with Faustina Savorgnan. The paintings on the ceilings create optical illusions to the visitors of Ca' Rezzonico.
The second and third floors display paintings by G. D. Tiepolo, son of G. B. Tiepolo, Pietro Longhi, Canaletto, Francesco Guardi and others. A special room is dedicated to the paintings of Longhi, depicting the lifestyle of the upper class of Venice in the 18th century. The Ca' Rezzonico Museum would also be of interest to the lovers of English literature, as it is here the famous English poet and playwright, Robert Browning spend the last years of his life. He died at Ca' Rezzonico in 1889.
Ca' Rezzonico address and hours
Ca' Rezzonico Museum
Fondamenta Rezzonico 3136
Phone: 041 241 01 00
Closed on Tuesday.
Open from Wednesday to Monday, 10.00 am to 5.00 pm.
Photo by netNicholls on flickr
You should follow me on twitter here.