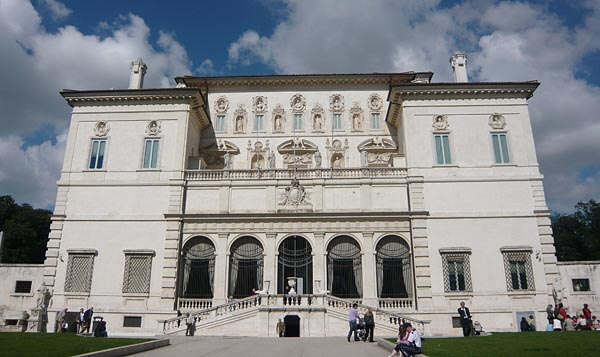 If you are in Rome, Italy, be sure to visit the exquisite Galleria Borghese (The Borghese Gallery). Similar to the Frick in New York City, but much larger in scope, this gorgeous building houses the largest collection of private art in the entire world.
Advertisements:



The bulding it named for its creator, Cardinal Scipione Borghese, who was a giant in the world of art collecting in his time. He had the Galleria built in 1613 for the purpose of housing the master paintings he'd accumulated. (He was especially a fan at the time of Bernini.) Throughout the centuries the collection was added to and refined, and today it has quite the impressive collection.
Some of the works and artists featured at the Galleria Borghese are: "David" and "Apollo and Daphne" by Bernini (the largest collection of his sculptures resides here); "Madonna and Child" by Gentileschi; "Sacred and Profane Love" by Titian, "Madonna of the Straw" by Van Dyk; "The Desposition" and "St. Sebastian Cared for By the Angels" by Rubens; "Flagellation" by Pierro De la Franchesca, "David with the Head of Goliath" and many more by Caravaggio; and many more.
You should make reservations to go to the Galleria beforehand – it can only accomodate 300 people at a time. Patrons are only allowed in it in 2 hour intervals to allow them the initmate and private experience of viewing the masterpieces up close and uninhibited. The Galleria Borghese is set in one of Rome's most beautiful areas and is truly a special experience.
Galleria Borghese address and hours
Galleria Borghese
Piazzale del Museo Borghese 5
00197 Rome
Phone: +39 (0)6 8413979
Closed Sundays
Mondays through Saturdays 8.30ma to 7.30pm
Closed 1 January and 25 December
Photo by mitko_denev on flickr
You should follow me on twitter here.