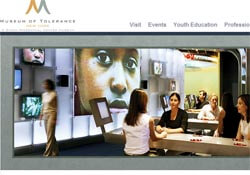 The Museum of Tolerance New York is a little known gem located in the center of bustling Manhattan. The museum was established in 2004 by the Simon Wiesenthal Center and follows in the footsteps of the Museum of Tolerance Los Angeles and Museum of Tolerance Jerusalem. It hosts a variety of multi-media exhibits about the Holocaust and other historical events that occurred as a result of hate and prejudice. The museums mission is to educate its visitors about the history of human rights discrimination while also inspiring them to act against discrimination in the future.
Advertisements:



The museum attempts to cultivate understand and compassion by asking its visitors to confront their own preconceived notions about racial, social and religious groups different from their own. It offers group tours, school field trips, and even classes that educate key professionals in the community, such as police officers, teachers, government employees and business people.
Considering the work that it does, the Museum of Tolerance New York is more than just a vacation destination. It is a place to explore social issues such as diversity, prejudice and understanding and to learn how these elements affect our social landscape.
Museum of Tolerance New York address and hours
Museum of Tolerance New York
226 East 42nd Street
New York, New York 10017
Phone: +1 212-490-1205
You should follow me on twitter here.