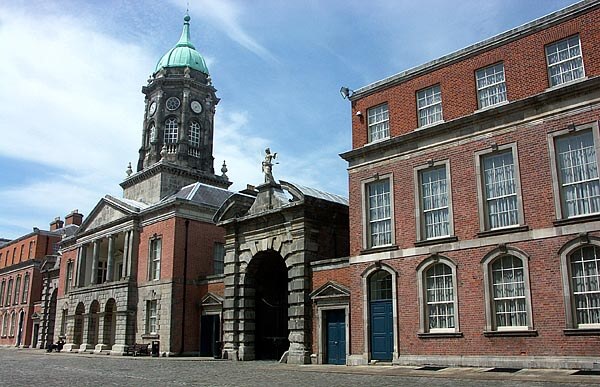 The Chester Beatty Library is one of the hidden treasures of Europe. Off the beaten tourist track, but well worth the visit, this was one of the most impressive libraries or museums that I saw during my trip to Europe last summer. This is an art museum and library which houses the great collection of manuscripts, miniature paintings, prints, drawings, rare books and some decorative arts assembled by Sir Alfred Chester Beatty.
Originally I had thought that the British Library would be the defining intellectual spot of my trip but I was pleasantly surprised once I stepped foot in the ancient stone archway of Beatty Library. It was slightly out of the way of my previously planned itinerary, but I decided to take a risk and step off that well worn tourist track that I mentioned. It felt good to be in the real Irish countryside, and discovering a hidden gem of a museum that my tour group had missed.
What most impressed me? Wow, there are so many places to start. The architecture of the building itself was impressive, and took up several photos in my digital camera. Bold stone construction yet with modern touches, this was an impressive preservation of the original thoughts with updated influences.
The Chester Beatty collections
Advertisements:



The collections inside the museum were also amazing. European, Asian, and African art is all displayed throughout the well lit galleries and stacks of the libraries. Irish manuscripts were featured during my visit and that was a trip worth taking. While there were not many souvenirs available for purchase, I didn't mind as I was able to take pictures throughout the museum. The staff was also very well informed and helpful with all of my American questions. Overall I can highly recommend the Chester Beatty Library in Dublin as a cultural stop on a tour of Ireland.
Chester Beatty Library address and hours
The Chester Beatty Library is situated in the gardens of Dublin Castle in the heart of the city centre.
Chester Beatty Library
Dublin Castle
Dublin 2
Ireland
Free admission
1 May to 30 September: Monday to Friday, 10.00 A.M. to 5.00 P.M.
1 October to 30 April: Tuesday to Friday, 10.00 A.M. to 5.00 P.M.
Saturday, 11.00 A.M. to 5.00 P.M. (All year)
Sunday, 1.00 P.M. to 5.00 P.M. (All year)
Closed 1 January; Good Friday; 24, 25 and 26 December; and Monday public holidays.
Photo by yakshini on flickr
You should follow me on twitter here.