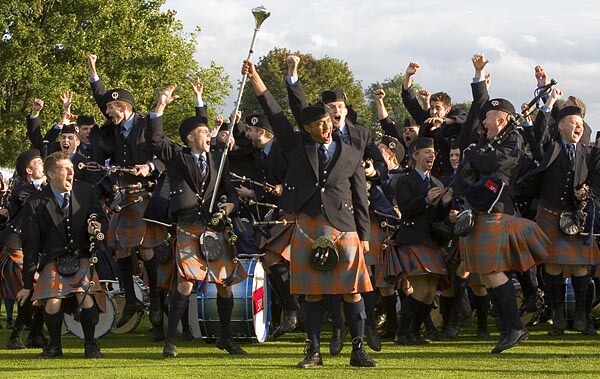 The haunting tones of the bagpipes and the stirring beat of the drums fill you with heart-pounding excitement. It's the music, the competition, the history and pageantry! It's the annual Pipe Band World Championship, held every August in Glasgow, Scotland, and you are on your way! This year, more than eight thousand musicians from all over the world are coming to Glasgow to compete in the World Championships. Who will emerge victorious? Will St. Lawrence O'Toole out of Dublin, Ireland repeat their 2010 win? Or will British Columbia's Simon Fraser University recapture the throne? Will it be Scotland's own Schott's Pipe Band? Or will a new challenger from a far-off land surprise the field? No matter who wins, you'll be an eyewitness to the thrill and splendor of Glasgow's premier event - the Pipe Band World Championship!
Championship Day is the highlight of a week of festivities in Glasgow known as Piping Live! Glasgow International Piping Festival. Go to the free Pipe Band concerts, see the youth perform, attend a workshop, immerse yourself in Scottish culture.
The Pipe Band Festival is held in the Glasgow Green, Glasgow's oldest park, near the city centre. Its location makes it easy for you to see and do so many things during your stay. The city center of Glasgow features some of the world's best shopping, including high end stores, boutiques, antiques, and crafts. Some of the main streets through Centre City are for pedestrians only. As for dining, City Centre is filled with countless restaurants serving everything from traditional Scottish fare to home-style American cooking to fusion cuisine and much more. You'll find numerous hotel accommodations in and near Centre City, with prices ranging from around thirty pounds on up. If you haven't already made your reservations, you will find plenty of online booking sources.
The area around Glasgow's Centre City is filled with all kinds of attractions to visit, in between Pipe Bands, of course. The Kelvingrove Art Gallery and Museum is free and houses fine examples of European art, natural history, and armor. It's Scotland's most visited attraction. If you are a fan of the artist, James Abbott McNeill Whistler, you'll see the largest collection of his art anywhere in the world at the Hunterian Art Gallery. One fun way to see the sights is aboard the Glasgow River Link Ferry, which traverses the Clyde River. It stops at points of interest like The Riverside Museum and the Glasgow Science Centre.
To be in Glasgow in August is to be in the right place at the right time. The Pipe Band World Championship in itself is enough reason to visit this fabulous city. And with a little planning, you can take advantage of all that Glasgow has to offer.
Advertisements:



Photo by designfolk on flickr
You should follow me on twitter here.