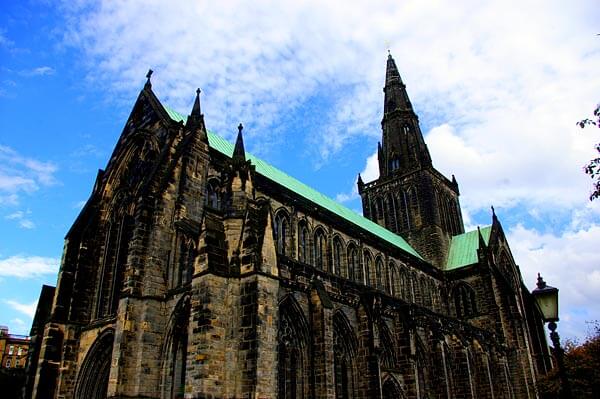 Glasgow Cathedral in Glasgow, Scotland, is a treasure not to miss on your next trip there. The Cathedral is also called High Kirk of Glasgow, St Kentigerns' or Mungo's Cathedral. It is a medieval cathedral with an active congregation of of the Church of Scotland today. The Cathedral was one of the few to survive the Protestant reformation without being destroyed. The title cathedral is honorific and historic.
The church itself is magnificent and stands at the top of a little rocky knoll where it was founded as a religious community that lead the process to have Glasgow become a dominant city in Scotland. You will marvel at the Gothic design from the 13th century. The long main aisle leading to the beautiful sanctuary where many a bride must have and still do stand, is lined on both sides by wooden pews. Check out the amazing vaulted crypt where tomb of St Mungo who is the patron saint of Glasgow. Take the opportunity to be memorized by the beauty of the stained glass window. Behind the church is an old grave yard to stroll through and look at the interesting dates on the head stones.
Even if you not a great fan of old churches this is one you shouldn't miss. Free tours are given and donations are accepted.
Glasgow Cathedral address and hours
Glasgow Cathedral
Cathedral Square
Castle Street
Glasgow
G4 0QZ
April to September – Summer
Weekdays between 9.30am and 5.30pm
Saturdays between 9.30am and 5.30pm
Sundays between 1.00pm and 5.30pm
Advertisements:



October to March – Winter
Weekdays between 9.30am and 4.00pm
Saturdays between 9.30am and 4.00pm
Sundays between 1.00pm and 4.00pm
Photo by Paul Holihan on flickr
You should follow me on twitter here.