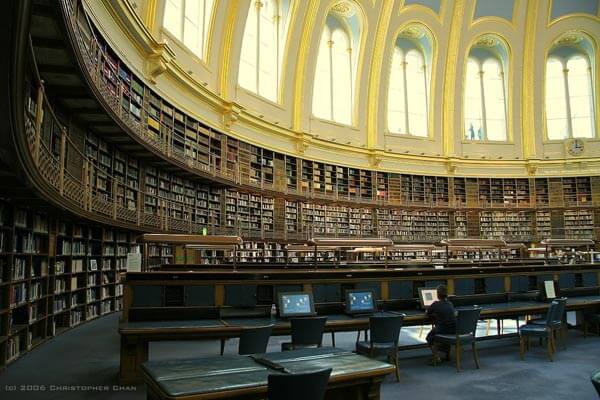 If you think that libraries are boring and dull places to visit then think again, because the British library which is the national library of the United Kingdom might be an irony to your thoughts. Situated at St Pancras in central London this library boasts of its magnificence and glory. It is the world's largest library holding around 150 million items including books, journals, magazines, patents and music recordings. It has everything one can think of from a historical manuscript dating 300 BC to the newest publications around the world.
Advertisements:



Once you are in the library you will find it hard to leave because of the splendid and superb thematic exhibitions including some of the rarest and finest books open throughout the year to the general public in the Sir John Ritblat Gallery at no charge. The King's Library is a marvelous 17 meter glass walled tower containing an astonishing 65,000 prints collected by King George III. The library has a modernized look with complete sound proofing and holds some world class exhibitions and programs throughout the year.
The best thing about this library apart from its magnificent looks and huge collections is that you can always manage to have interesting and intellectual conversations with the people over there. The general public gets the opportunity to see some original works like that of Magna Carta, Captain Cook's journal, Geoffrey Chaucer's Canterbury Tales, Jane Austen's History of England and many more like them of which you might have only heard of.
If you are interested in any kind of research work then this place is like a Mecca for you. You can find any possible book or important paper related to your interest in this library. A must go place for everyone to see what a true library is.
British Library address and hours
The British Library
96 Euston Road
London
NW1 2DB
The British Library is open from 9.30 am to 5 pm Monday through Saturday. Closed Sundays and Bank Holidays.
Photo by Christopher Chan on flickr
You should follow me on twitter here.