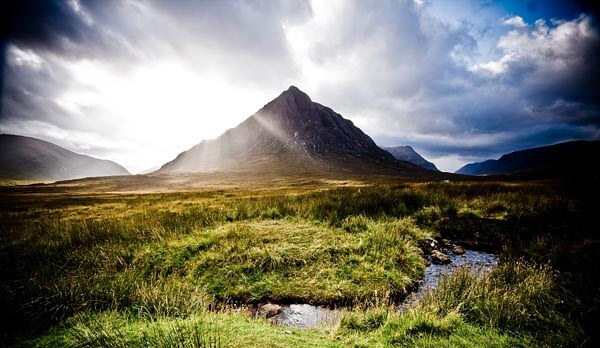 The Great Glen Way in Scotland is a national long distance walking route between Fort William and the city of Inverness. For most of the way, the route follows the the Caledonian Canal, which connects the east coast of Scotland at Inverness with the west coast at Fort William, a distance of seventy-three miles or one hundred eighteen kilometers.
During the Nineteenth and early Twentieth Centuries this canal was an important shipping lane because it allowed traders to steer clear of privateers when the Napoleonic Wars were in progress. The Great Glen is actually a series of glens that follow the Great Glen Geological Fault bisecting the Highlands to the Grampian Mountains, one of Scotland's major mountain ranges.
The Great Glen Way was inaugurated on April 20, 2002. It can be traveled by walkers or also by bicycle, boat, canoe or kayak. The walking route is clearly marked and, because some of it passes through working forests, it is suggested that visitors check with the rangers of the Forestry Commission to get information about possible diversions along the way.
The walking route connects through a series of foot trails, forestry tracks and paths along the canal, occasionally interspersed with roadway. Since the route takes about five or six days to walk, there are a great variety of overnight accommodations in the communities along the way, with four information centers at Inverness, Fort Augustus, Fort William and Loch Ness.
Advertisements:



The walk is varied, offering easy walking with some steep climbs and extends from forest to moorland or grasslands. Walkers will have majestic views of Loch Lochy, Loch Oich, and Loch Ness, as well as viewing other landmarks such as Neptune's Staircase, the series of canal locks near Fort William, and Urquhart Castle, once one of Scotland's largest. The Great Glen Way walk is completed at the Caledonian Canal's emergence into the Beauly Firth.
Photo by dave_apple on flickr
You should follow me on twitter here.