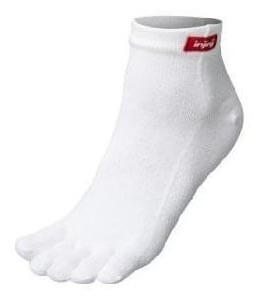 Socks for hikers, runners, and travelers are rarely very exciting and honestly rarely anything too special. The Injinji line has a trick, or rather ten, down by the toes though, by wrapping each of them in it's own seamless wrap of fabric.
Advertisements:



This helps avoid any blisters you may get by walking along museum halls or walking tours for hours, and in cold weather, the wool varieties will keep your feet that bit more toasty than other socks. Wicking fabrics will keep your feet cooler and drier in hot climates too, and after a hot weather city break, your feet will be ready to give you a prize for that!
Toe socks do take a little getting used to, getting your toes into the right little pocket can be tricky at times. Once on they're super comfy and quite supportive as well.
Try the injinji Performance Micro Toesocks variety for hot weather, or the Injinji Merino Wool Mini-Crew Toesocks for hiking. For something more fun, try the stripy variety.
Here's the full line of Injinji Toe Socks on Amazon.com.
I'm packing these nowadays when I go away, what do you think of the Injinji socks?
You should follow me on twitter here.