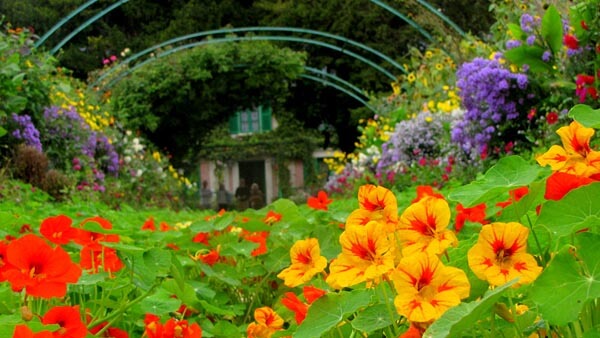 Say "water lilies" to an art lover and they will immediately launch into a rhapsodic lecture on Impressionist master Claude Monet's house and garden at Giverny, a charming small village about 80 kilometers west of Paris. Giverny is also home to the next door Musée des Impressionnismes.
Monet was captivated by the tiny town on a visit there and in 1883, moved there with his wife and eight children. He remained in the village, creating and painting his gardens, until his death in 1926. Monet's house is a logical first stop on your Giverny tour. Much of the house remains as it was when the artist himself lived there, although his studio has, alas, been turned into a gift shop.
But it's the gardens that are the real attraction here. There are actually two gardens: in front of the house is a spectacular flower garden called Clos Normand, created by the artist himself. In the back is the Japanese water garden, including the oft-painted Japanese bridge, swathed in wisteria, and the pond Monet had dug to showcase his ever-growing collection of water plants.
Monet was fascinated by the play of light and shadow on water, and he painted his beloved water lilies in all kinds of weather and all times of day to capture the nuance and shadings of color. It's not often that you have the chance to walk right into an artist's masterpiece, but at Giverny, you do just that as you wander the garden paths, spellbound by the beauty that so captivated the artist.
Monet's Garden address and hours
Monet's House & Garden
Fondation Claude Monet
Rue Claude Monet
27620 Giverny
France
The house and gardens are open daily from April 1 through November 1. The entry fee is eight euros, and you'd do well to buy a ticket online in advance (there is a surcharge of 1.5 euros), to avoid the queue that forms quite early in the day.
Advertisements:



Photo by olivcris on flickr
You should follow me on twitter here.