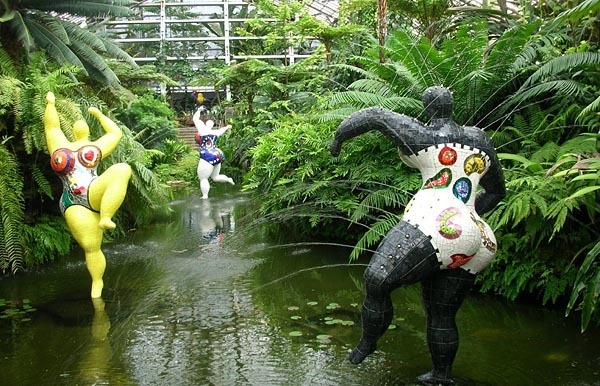 The Garfield Park Conservatory ranks among Chicago's most unique sites and is considered one of the city's best kept secrets. It takes up 4.5 acres of Garfield Park on the west side of Chicago. The Conservatory is one of the best in the United States and houses plant exhibits from around the world. Jens Jensen, who was superintendent of the Westside park system, designed the Conservatory to be "landscape art under glass." Construction was completed in 1907.
Advertisements:



The Garfield Park Conservatory offers something for everyone. You can take a free, self-guided tour of the grounds and explore the many different plant varieties. The Conservatory also offers many shows and events year round. Each summer, the conservatory holds the Summer Tropical Flower Show. It is free to get in and runs from May 28 to September 25. There are several programs for families, children, and adults. If you've got children, the Elizabeth Morse Genius Children's Garden is a must-see. It's an indoor, engaging experience for children. They can climb the overgrown vine and get hands-on experience in the Discovery area and sensory cart. That is just one of the display houses.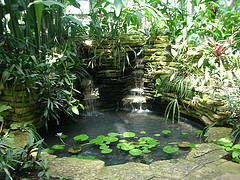 There's also an Aroid House (aroids are pitcher plants), Desert House, Fern Room, Horticulture Hall, Palm House, Show House, and Sugar from the Sun. The Palm house is one of the most popular exhibits. It has over 700 different types of palm trees, including the Coconut Palm from South Africa. It has the largest seed of any plant weighing 50 pounds. There are also several outdoor gardens to explore.
The City Garden is open every day of the year and shows examples of plants that can grow in an urban setting. The Demonstration Garden is open from May 1 to November 1. The Monet Garden is an adaptation of the painting by Monet. With all of this available, there's sure to be something to interest everyone. The Garfield Park Conservatory is easily reached using public transportation. Simply take the green line from the Central Park station.
To rest your legs and fill your stomach, there's a café at Garfield Park Conservatory, and also a gift shop to bring back a souvenir or two.
Garfield Park Conservatory address and hours
Garfield Park Conservatory
300 North Central Park Ave.
Chicago, IL 60624-1996
USA
The Garfield Park Conservatory is open every day of the year.
Daily Hours: 9 am - 5 pm
Wednesdays: 9 am - 8 pm
Admission to Garfield Park Conservatory is free, parking is also free of charge.
Photos by puroticorico on flickr
You should follow me on twitter here.