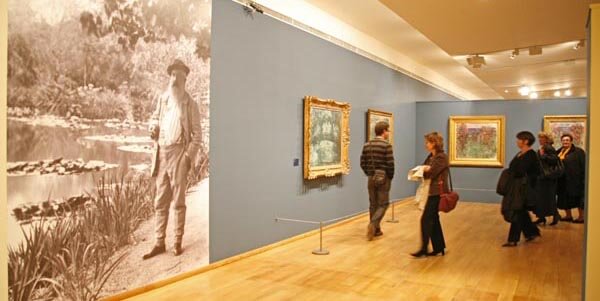 The Museum of Impressionisms, or Musée des Impressionnismes, in Giverny, France, was initially opened as The Musée de'Art Americain under the auspices of a foundation developed by the American businessman and art collector, Daniel J. Terra. In 2006, this important museum partnered with le Musée d'Orsay, Claude Monet Foundation and Musée Marmottan and focuses on the Impressionist art movement. Giverny is in the Seine Valley and was home to one of the founders of French impressionism, Claude Monet.
Visitors to this museum, which was built in 1992, will find that it was designed to appear as part of the landscape. The architects intended for it to blend in by using delicate colors and materials, with an openness between the inside and outside, as if it were actually an impressionist painting. Surrounding a great hall, the interior exhibition galleries are on various levels in sync with the slope of the landscape. The terraced restaurant and tea room is on the ground floor, and there is a lower level that holds an auditorium. Exhibitions this year include the Clark's collection, Manet to Renoir.
Advertisements:



Entrance to the Monet Gardens around the museum is free to the public. The area is separated into small pockets of a variety of lovely and colorful gardens in which visitors can relax and stroll among them. In harmony with the impressionism movement, the field behind the museum is similar to a living impressionist painting, full of poppies, daisies and cornflowers.
Musée des Impressionnismes Giverny address and hours
Musée des Impressionnismes Giverny
99 Rue Claude Monet
27620 Giverny
France
The museum is open from 1 April to 31 October. Open daily from 10 am to 6 pm, last admission at 5.30 pm.
Photo by eureenligne on flickr
You should follow me on twitter here.