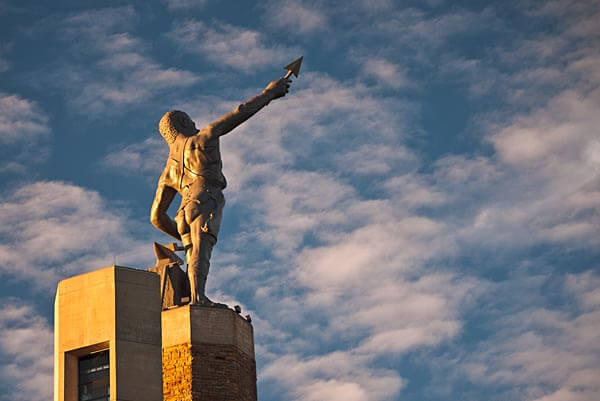 You're going to Birmingham Alabama this summer and want to see something out of the ordinary. Well, stop at the summit of Red Mountain, which overlooks the downtown area. Here you will find a 56 foot statue of Vulcan who was the blacksmith of the Roman Gods. Yes, right there in the middle of the Bible belt is a statue to a pagan God.
Advertisements:



Vulcan was built for the 1904 St Louis World's Fair, not to worship a pagan god. He was to represent the pride in the local iron industry. Vulcan weighs 51 tons and is the largest cast iron statue in the USA, and in fact the whole world.
When he returned to Birmingham from St Louis, it was thought he would be put in the middle of town but the people did not want that. The reason? The Vulcan did not have any pants. The Vulcan was then sent to the fairgrounds where he received a pair of painted on overalls. His right hand was empty but over time he held a spear, a soda bottle, and even a jar of Heinz pickles. In 1946 a "safety torch" was put in the hand and would turn from green to red when ever there was a traffic fatality in the city. Today it burns just green when the button is pushed by a visitor.
Today, the statue is surrounded by the Vulcan Park & Museum, including a viewing balcony over Birmingham, Alabama. There's also a museum and gift shop.
In 1932 the Vulcan was erected on top of a 12 storey sandstone tower on Red Mountain. In 1999 he was determined to be a safey hazard and removed for repair but reappeared in 2004.
Today as a guest you can stand next a replica of his giant sandaled foot but a trip to the top of the tower is still the highlight of the visit. For years when the visitor reached the deck the Vulcan naked bottom was hid from view.
Today it is the first thing they see and Vulcan is Birmingham's pride after 100 years of false modesty.
Vulcan the Iron Man location and hours
Vulcan Park & Museum
1701 Valley View Drive
Birmingham, AL 35209
United States of America
Vulcan Center Museum:
Monday through Saturday 10 am - 6 pm and Sunday 1- 6 pm.
Vulcan Observation Balcony:
Monday through Saturday 10 am - 10 pm and Sunday 1 pm - 10 pm.

Holiday Hours:
Closed Christmas Eve and Christmas Day. Open at 1 pm on Thanksgiving and New Year's Day. Closed at 6 pm on 4th of July.
Photo by gregw66 on flickr
You should follow me on twitter here.