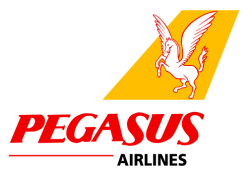 With Turkey really having made it onto the mass travel market radar this year, especially for Europeans, Pegasus Airlines is expanding their routes between the United Kingdom and Turkish regional airports. And it's good timing too, in 2009 the passenger numbers have already exceeded the full year of 2008.
Advertisements:



The new routes include services from:
London to Istanbul, Bodrum and Dalaman
Manchester to Antalya and Dalaman
Birmingham to Antalya and Bodrum
The airline's general manager Sertac Haybat said: "North Cyprus and Istanbul are the most popular routes, as was the direct Bodrum route in the summer."
In total, Pegasus is launching a further 17 routes, which is a significant increase in their route portfolio. Turkey has experienced a huge increase in tourist numbers, as its location outside the Eurozone means it's a value destination for those living in the European Union.
You should follow me on twitter here.