Introduction to Paris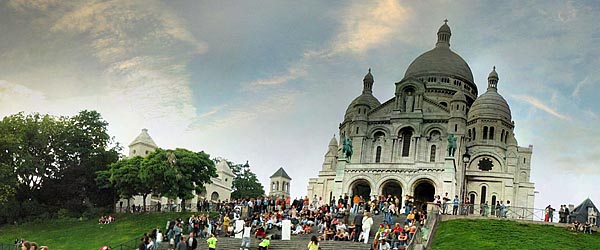 The rock band U2 described Paris as the City of Light, and they were right about it. Paris, an international city is the heart and pulse of France, luring travelers from every region in the world.
Every landmark in Paris is known the world over and featured in every aspect of popular culture from music, songs, videos and movies such as the famous Eiffel Tower to the Arc de Triomphe, Notre Dame Cathedral, the Cite de la Musique to the Champs-Elysees. Paris has overwhelming beauty from day to night as is truly the City of Light.
Paris is a temple of gastronomy delights. French cuisine is famous the world over and Paris is the place to sample all these delectable palettes. For a dining experience with a little bit of history behind it, head to Le Grand Vefour, a favorite place for celebrities ever since the 1760's. This is where Napoleon wooed Josephine and where only the world's leading chefs are allowed in its kitchens.
Want a taste of old fashioned bistro French dining? Then Allard is where you should head to for dinner. Establised in 1931, this bistro serves the best in French repertoire cuisine from escargots to foie gras to cassoulet.
If you are a first timer in France, the Eiffel Tower, Arc de Triomphe as well as the Louvre Museum is a must go and cam-whoring at these famous landmarks is an obvious yes, how else will people know you've been to France? If you are a seasoned traveler to the City of Lights, then other attractions should be considered. Places such as Centre Pompidou, Musée National du Moyen Age and Musée Picasso will allow you to sample art and get to know many of France's famous people who have raised the standards of arts and culture.
Paris isn't just called the City of Lights for nothing as this is the place for a thriving night life. For a taste of how French people party, head over to Académie de la Bière, Baiser Salé and Club Zed. Each of these clubs (of many others) feature very different concepts of clubbing and music and cater to different genres of styles from hip hop to trance, jazz, blues and latino music and even reggae.
Paris is also the capital of shopping and if you can't stomach the haute couture labels Paris has to offer, it would hurt to drop by at several of the famous designers flagship stores to see what its like to shop haute couture. From high end labels such as Christian Dior to Chanel, BCBG Max Aria and Azzedine Alaïa to budget and discount malls such as Anna Lowe, Annexe des Createurs and Defile des Marques, Paris is definitely a shopping haven and nobody would blame you if you splurged a little.
Want a more organized trip? Paris has numerous walking tours and organized tours for the starry eyed wonderer which takes you around famous Parisian landmarks.
One such walking tour is The Marais which starts at the Place de la Bastille and ends at the same place. This walking tour takes about hour and a half hours with briefs stops en route. Another walking tour is the Latin Quarter which starts at the Place St-Michel and finishs at the Pantheon. It takes about 3 hours and covers a distance about 2.5 km.
A good website to visit in planning your trip to Paris is the Paris Office du Tourisme et des Congres at www.parisinfo.com. This website gives you all the information you need about accommodation, transportation, trips and tours, attractions and practically everything you need to know to get around Paris.
This website acts as a virtual tourist office, enabling you to buy accommodation and transport passes online as well as cultural and leisure products of Paris. The office also provides a multilingual team in its numerous 'Welcome Ambassadors' kiosks around Paris where you can get maps, travel information, train and bus passes as well as other tourist information.
Photo by Panoramas on flickr