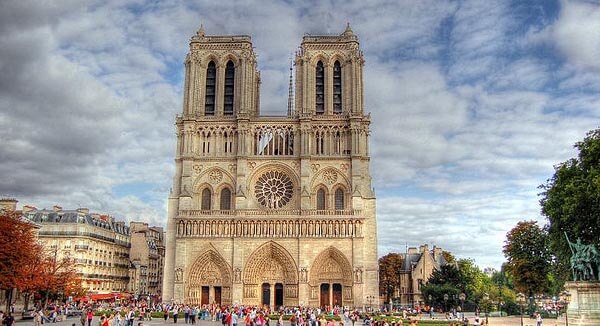 If you go to Paris, the world famous Notre Dame Cathedral should definitely be on your itinerary. The cathedral is located in the very center of Paris. It would be hard to find a better example of French Gothic architecture anywhere in Europe, its intricate facade is recognized throughout the world. The stained glass windows are truly spectacular. The towers and spire are very dramatic and the sculptures are awe inspiring. It's easy to see why Victor Hugo used it as the setting of The Hunchback of Notre Dame. It made a perfect backdrop for that dark tale.
From the Notre Dame's plaza you can view the facade's three elaborate portals and stunning statuary. Some of the statues in the cathedral are replicas because the originals were damaged in the revolution.
Advertisements:



For a fee, you can even climb to the top of the towers, it's close to 400 stairs, but it's worth the climb, because from there you can see the Seine, and the whole city of Paris. You'll also get a good look at some more elaborate sculpture and that famous bell in the south tower. Once back on the ground be sure to go all the way around the outside of the cathedral. The rear facade with its flying buttresses may even be as impressive as the front.
Three grandiose stained-glass rose windows are the main focal point of the interior. The light coming through the stained glass gives a soft ethereal feel. The organ in Notre Dame which has been is one of the largest in France.
Completed in the 14th century, the Notre Dame Cathedral has a long history. If you want to learn more about the cathedral, the site it's built on and the surrounding city you can visit the archaeological crypt. It is at the west end of Notre Dame's plaza.
Notre Dame Cathedral address and hours
Notre Dame Cathedral
6 Place du Parvis Notre-Dame
75004 Paris
The cathedral is open every day of the year from 8:00 am to 6:45 pm (7:15 pm on Saturdays and Sundays). Entrance to the cathedral is free every day, but the towers are only accessible by paying a fee.
Photo by Giorgos~ (moving to Google+) on flickr
You should follow me on twitter here.