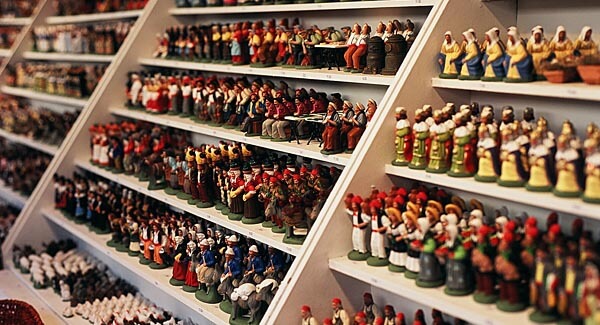 The Santon Marcel Carbonel Museum in France's Mediterranean port city of Marseille is one of the world's most unique and engaging museum experiences. Devoted almost entirely to the work of local artisan Jean-Louis Lagnel. Within the walls of this museum is a collection of unique Santon's, which are painted figurines.
The museum itself not only house the work of Lagnel, but a variety of different artists who developed his techniques. The techniques used are very wide, but the museum walls also offer an insight in to the different ways and means the artists used to create the Santon's.
There's more still. As the techniques which Lagnel developed the art form grew and led both he and other artists to start producing other items, such as cribs and moorish designs, which are unlike anything else produced even to this day.
What began as the work of one man towards the time of the French Revolution, has lasted until this very day and still as an open workshop for modern Santon makers. This museum represents the beauty of this art form in the past, present and future. The most prestigious moment of it's history was in 2000 when it's in-house crib was selected as the second most beautiful in the world by the Vatican.
Advertisements:



It's s must see for any visitor to the French Mediterranean and it's free!
Santon Marcel Carbonel Museum address and hours
Santon Marcel Carbonel Museum
49, Rue Neuve Sainte Catherine
13007 Marseilles - France
Opening Hours are 10am-12.30pm & 2-6.30pm Tue-Sat
Photo by taliesin on flickr
You should follow me on twitter here.