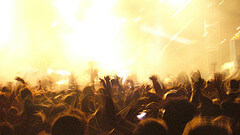 Sete, on the sunny beaches of southern France, is the home of the Worldwide Festival, which is held early each July. Sete is a sea-side resort area on the Mediterranean Sea and has a strong cultural identity, tradition, cuisine and dialect.
Sete comes alive in July with the Worldwide Festival which was started by Giles Peterson is said to be an "explosion of cutting edge grooves by the best of today's inspirited artist". It has an exception line of in a very unique environment.
Giles Peterson has a radio show called worldwide and broadcasts in 20 countries. His popularity has helped attract the up and coming talents around and also the most exciting established artists. Being such a well know personality has brought together an army of music enthusiast from around the world for the festival. The festival is for music lovers who share a unique spirit with the performers.
The idea of the festival is based on the idea to create a different festival offering a unique artistic selection of stunning environment around the world,
A gold pass is offered to purchase that admits you to all the outdoor venues. As with all festivals the food is abundant and so are beverages. The Worldwide Festival is all about the sun, sea and the Worldwide Sound! So attend this amazing festival in July and enjoy.
Advertisements:



Photo by Ronnie Garcia on flickr
You should follow me on twitter here.