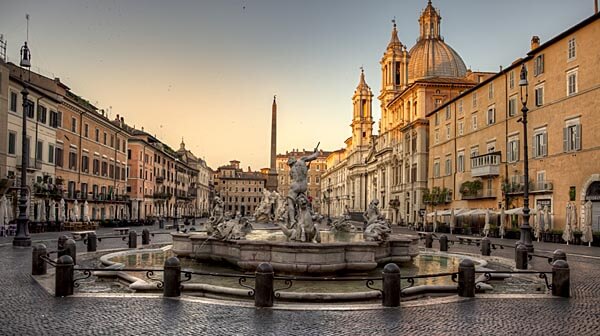 For a beautiful portrayal of Rome's beauty and ancient history, the Piazza Navona is a must-see attraction when visiting Italy. Built in the 1st century AD, the area was once a place where locals would watch outdoor competitive games, but has since transformed itself into a family-friendly city square. Among the sights at the center the square that have become world famous include the Fountain of the Four Rivers (built in 1651) and the Obelisk of Domitian, which are both recognized today as important sculptural and architectural influences signifying the Baroque Roman era.
The Fountain, specifically, was built in recognition of the four rivers Danube, Nile, Ganges and La Plata. The Piazza Navona also has two additional fountains on opposite ends of the square known as the Fontana del Moro (south side), which features a statue of a Moor wrestling a dolphin, and the Fountain of Neptune on the north side.
Advertisements:



As time has moved on, the Piazza has become known for many festivals and theater events, with the area becoming a staple destination for weekend fun for the family and during the holidays, a Christmas Market is even held at the tourist attraction. In popular culture, movie fans will recognize the Fountain of the Four Rivers prominently displayed in the 2000 thriller Angels and Demons, starring Tom Hanks. Director Ron Howard filmed several scenes on the southern side of the Piazza Navona, in an effort to bring some historic flavor to the film.
Piazza Navona location
Get here by the Corso del Rinascimento metro station
Photo by pynomoscato on flickr
You should follow me on twitter here.