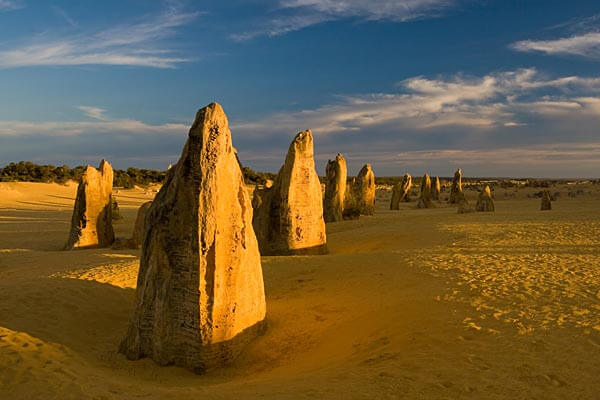 No exploration of Western Australia's Coral Coast would be complete without a visit to Nambung National Park, which is located about three hours from Perth. The key feature of the park is the Pinnacles Desert. Limestone formations that were created many thousands of years ago, some of which are several meters high, form a landscape that resembles another world. There are thousands of these pillar-like structures, which were formed originally by sea shells which were washed ashore and then carried inland by the winds. Southerly Winds are constantly covering and uncovering the structures which causes them to always keep changing their shapes.
Advertisements:



In 2008, the environmentally friendly Pinnacles Desert Discovery opened to inform and educate visitors about this fascinating and marvelous natural phenomenon. Visitors can take a drive to enjoy the scenery or hike a walking trail that looks out over the park.
Nambung National Park also offers gorgeous beaches for swimming and snorkeling, a system of coastal dunes and incredibly beautiful flowering vegetation from August to October every year, to delight visitors from all over the world. Hangover Bay has gas barbecue facilities and picnic tables, as well as a launch for boats. The park beaches are excellent for surfing or windsurfing, and visitors to the area often spot dolphins or sea lions. Inside the park also, kangaroos can be seen that are tame and allow visitors to come near them. Other wildlife include Carpet Pythons, which are not poisonous, Emus, White Tailed Black Cockatoos and Honey Possums.
There are day tours available for visitors to the park, including tours that use 4 wheel drive vehicles to explore the area more thoroughly. Nambung National Park is open all year round, and receives over one hundred and fifty thousand visitors every year from everywhere in the world. It is truly a wondrous place to visit.
Photo by Peter Nijenhuis on flickr
You should follow me on twitter here.