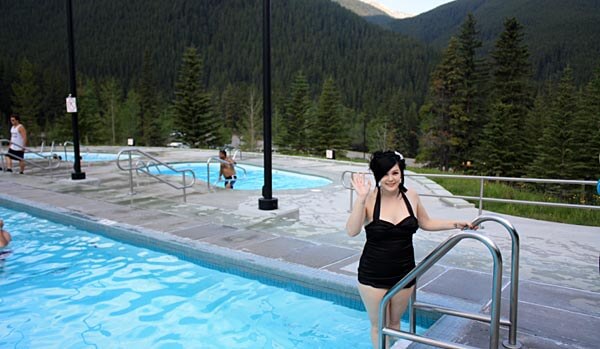 Located in Canada's Fiddle Valley, the Miette Hot Springs are known as the hottest hot springs located anywhere in the Canadian Rockies. The water in the springs is a warm but comfortable 40 degrees C and contains as many as 8 natural minerals, including in calcium, sulphate and hydrogen-sulphide. Soaking in these minerals is said to leave one relaxed and feeling refreshed. Some people even believe the minerals have healing capabilities. The Miette Hotsprings were discovered in the 1870's. They are now run by Parks Canada. Located about 61 kilometers to the east of Jasper, Alberta, the Miette Hot Springs located inside the Jasper National Park.
Early visitors to the hot springs used to have to make the 17 kilometer trip up the mountain on horseback or on foot, but modern-day visitors have the benefit of good roads and cars to get them to their destination and they are met with a modern facility in which to enjoy their stay. One of the highlights of visiting the hot springs is the spectacular view of the Aslar Ridge from the area.
There are two hot pools (one even has wheelchair access) and there is also a cool shower beside the pools. Hikers will enjoy the surrounding area which has a subalpine terrain with excellent views and lots of wildlife such as deer, bighorn sheep, and black bears. The facility also boasts a café and a gift shop so be sure to bring some money with you on your visit. The Miette Hotsprings is one of Canada's more unique attractions and should not be missed.
Miette Hot Springs location
Advertisements:



Miette Hot Springs
61 km east of Jasper townsite
51 km west of Hinton
GPS: 51.15112, -115.56097 decimal degrees.
Open from May through mid October. During the season, the Springs are open from morning until 9-10 pm.
Photo by tess_marie on flickr
You should follow me on twitter here.