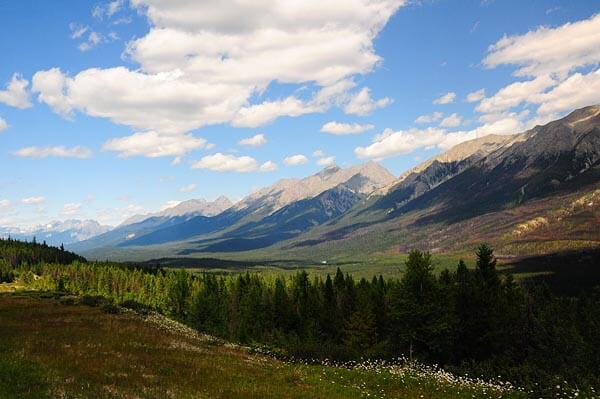 Just like other national parks, Kootenay offers a wide variety of activities. Besides hiking, Kootenay offers camping, boating and rafting on the Vermilion and Kootenay rivers, fishing, biking, and horse riding. In the winter, guests enjoy cross-country skiing, snowshoeing, ice climbing, and soaking in the hot springs.
Kootenay National Park is located in British Columbia, Canada. Along with Banff, Jasper and Yoho National Parks, Kootenay is set in the Canadian Rocky Mountains. It is named for the Kootenay River, which flows through the park. The park is open for visitors year round. The main tourist season in the park is from June to September.
Kootenay National Park location
Kootenay Park is located in Canada's British Columbia region. Kootenay National Park lies 888 km east of Vancouver and 170 km west of Calgary. It can be reached from the north at two access points on the Trans-Canada Highway: Castle Junction in Banff National Park (via Highway 93 South - the Kootenay Parkway) or Golden (via Highway 95); or from the south via Highway 93/95. The closest full service towns are Radium Hot Springs, just outside the park's West Gate, and Banff, 33 km east of the park's north entrance.
Kootenay National Park Visitor Centre
7556 Main Street East; Radium Hot Springs, B.C.
Mid May to mid June: 9:00 a.m. - 5:00 p.m.
Mid June to September: 9:00 a.m. - 7:00 p.m.
September to October : 9:00 a.m. - 5:00 p.m.
Advertisements:



Photo by olaf141 on flickr
You should follow me on twitter here.