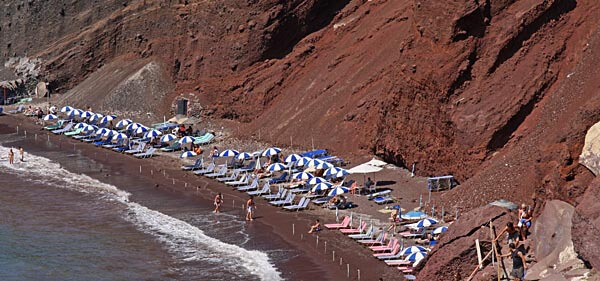 Among all the fabulous and relaxing places that travelers may wish to visit while on the Mediterranean island of Santorini, the Red Beach is one of the most stunningly beautiful. The beach is quite the destination for travelers, so anyone planning to make the trip to its famous sands should be prepared for a crowd. That being said, it is also true that many visitors come to the bluffs above the cove and simply look at the stunning formations, rather than actually going down to the beach to relax. The reason that the beach is such an astounding sight lies in the history of the island itself.
Santorini is the remnant of a much larger volcanic island that existed thousands of years ago. A catastrophic eruption leveled the island, creating a caldera below sea level that formed a lagoon. The island of Santorini may be thought of as the rim of the volcano's crater. The history of volcanism has left the beaches that face the lagoon with distinctive red and black volcanic rock and sands. Though the sand is quite rough and not an ideal surface on which to sit, loungers and umbrellas ring the water. The lagoon here is an especially good spot for snorkeling, as there are many fascinating geologic features that can be seen under water.
The beach is only accessible by walking over some rocks from a parking lot, a 10 minute walk from Akrotiri or by boat. It is also near the ancient site of Akrotiri and the White Beach.
The Red Beach location
The beach can be reached either by boat (there are several connecting Red Beach with Perissa and Akrotiri or by foot (10 minutes walk from Akrotiri, you have to reach Agios Nikolaos church in Akrotiri next to the excavations area).
Advertisements:



Photo by o-wagen on flickr
You should follow me on twitter here.