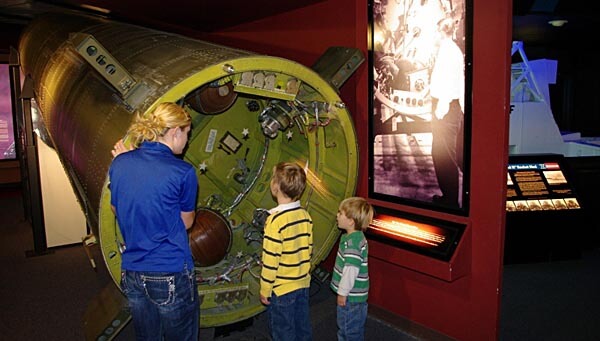 There is a place in Hutchinson, Kansas that will be sure to peak you interest. If you are a Space or Aeronautics buff, then you must visit The Kansas Cosmosphere and Space Center. Primarily an educational center and museum, The Kansas Cosmosphere and Space Center's main mission is the restoration of former spaceflight vehicles. The center also offers several excellent educational space and science camps. The center is comprised of four distinctly important facilities, The Dr. Goddard Lab, The Justice Planetarium, The Hall of Space Flight, as well as The Carey IMAX Dome Theater.
Perhaps one of the best things about the The Kansas Cosmosphere and Space Center is the excellent camps offered. These unique and highly educational programs are designed for elementary students, as well as for adults. One of the primary programs offered is The Kansas Adventures in Outer Space Camp. Visitors to The Kansas Cosmosphere and Space Center will find many interesting exhibits proudly on display. A few examples of the space age exhibits include amazingly, one of the Lunar Rovers and The Lunar module, an actual moon rock returned on Apollo 11, as well as the Apollo 13 Command Module.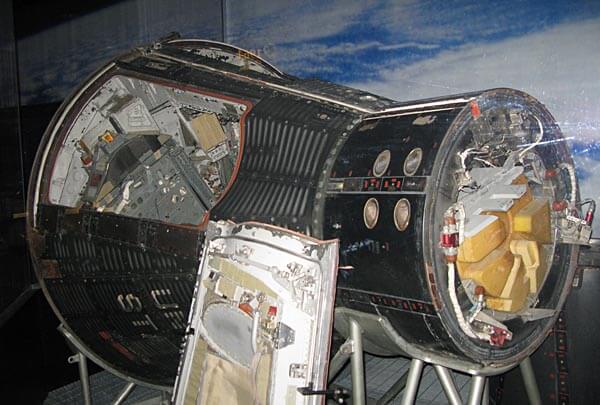 Advertisements:



The Kansas Cosmosphere and Space Center is one of the best adventures you could possibly introduce a young impressionable child to. Young minds eager for knowledge and eager to learn will absorb and take in all that the center has to offer. Young minds will stand in awe as they tour, learn and explore this truly inspiring facility. The camps will be sure to ignite a sense of purpose in these young children, and allow them to see what is possible in life. They will be more motivated and inspired than ever before to strive for greater goals in life, having experienced these educational camps. This is perhaps the most important function of the Cosmosphere, to educate and inspire. When in Hutchinson, do visit this wonderful facility you'll be glad that you did.
Kansas Cosmosphere and Space Center address and hours
Kansas Cosmosphere
1100 North Plum
Hutchinson, KS 67501-1499
| | |
| --- | --- |
| Mon-Thurs  | 9 am - 5 pm |
| Fri & Sat | 9 am - 7 pm |
| Sunday  | Noon - 5 pm |
Photos by TravelKS (1), and stephenjjohnson (2) on flickr
You should follow me on twitter here.