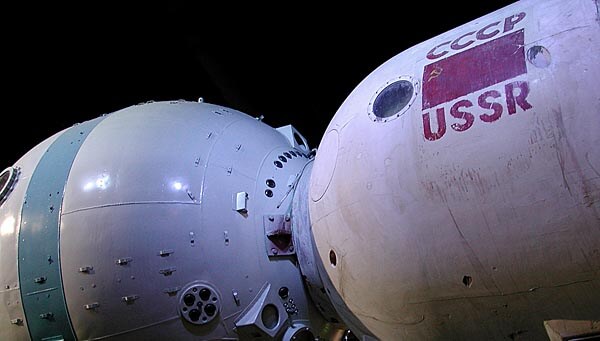 Situated in the heart of the English Midlands, the National Space Centre in Leicester is one of the country's foremost attractions dedicated to space and the exploration of space. Since its opening in June 2001 the non-profit centre has hosted a great number of famous astronauts including Buzz Aldrin, Helen Sharman, Michael Foale and Piers Sellars. Organized by the University of Leicester, with the support of the city council, it is an educational facility and research centre housing an inter-active exhibit, a state of the art theatre and a mission control and space station simulator. Included in the centre's displays is a Soyuz spacecraft, part of the Soviet's 1960'space program.
The Exhibition is a three to four hour walk-through that includes audio-visual displays and simulators to explain the importance between space and life on Earth.
Advertisements: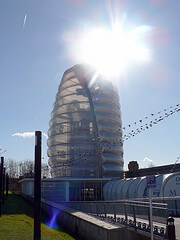 Designed by a prominent modernist architect, the centre's tower (left) is 42 metres high. There are over 250 exhibits, 700 test panels, 150 artifacts and 2000 images and diagrams. The domed Space Theatre is a multi-media showcase providing films produced at the center. These twenty to thirty minute films are part of the tour. The theatre also produces longer programs that include special school shows for educational groups. The Challenger Learning Centre is a simulated mission control and space station that promotes interest in mathematics, science and technology. The two and a half hour missions are also helpful to teach problem solving, decision making and communication. The centre has a restaurant for visitors, a shop for gifts and educational toys, along with classrooms and facilities that corporations can rent.
The National Space Centre's Academy programs are approved by the National Curriculum for Primary and Secondary Education to help expand the country's science and engineering pool. A network of teachers and scientists use the framework of space to teach things like physics, chemistry, mathematics, and biology.
One of the more interesting exhibits is the Near Earth Object Information Centre which provides information regarding asteroids and comets that have collided with Earth and the potentially hazardous close approaches and newly discovered objects. A little over a hundred years ago there were only 21 known Near Earth Objects. Today there are almost eight thousand NEO's, some of which do pose a great threat due to their size.
The National Space Centre is certainly an inspiration for school children who may consider science and technology as a career.
The National Space Centre address and hours
The National Space Centre
Exploration Drive
Leicester
LE4 5NS
Open: Off Peak (Term Time), Tuesday - Friday 10am - 4pm, Saturday - Sunday 10am - 5pm. Peak (School Holidays), Monday - Sunday 10am - 5pm
Closed: Monday 16, 23 & 30 January, Monday 6 & 27 February, Monday 5, 19 & 26 March
Photos by avantgardener4 (1) and Bruce Stokes (2) on flickr
You should follow me on twitter here.