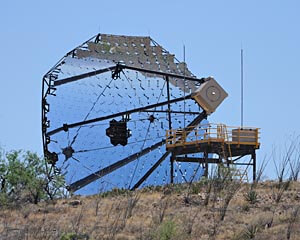 The Fred Lawrence Whipple Observatory is located at the base of Mt Hopkins in the Santa Rita Mountains, 35 miles south of Tucson. Stop in the Observatory's visitor's center to view the display and exhibits on astronomy, natural science and the cultural history of the region.
The observatory is a wonderful place to take your children to learn about the stars and the universe. They can enjoy the three-dimensional model of the galaxy, a touchable topographical map of Arizona's Santa Rita Mountains that they are in. The Lawrence Whipple Observatory also shows the history of the telescope from it's beginning with Galileo.
Enjoy the natural history exhibits, which tells about the animals active at night. The exhibits continue to the outside patio where you can view a display on Native American petroglyob that was discovered on the sight during construction.
Make sure you don't miss the Fred Lawrence Whipple Observatory when in the Tucson area for a great learning experience mixed with fun. If you're a hobbyist astronomer, you can bring your own telescope to the public observatory deck built for this purpose. All the exhibits and public areas are accessible and some of the major exhibits titles have been also translated to Spanish.
Fred Lawrence Whipple Observatory location and hours
Fred Lawrence Whipple Observatory
670 Mount Hopkins Road
Amado, AZ 85645
Advertisements:



Open 8.30 am to 4.30 pm Monday through Friday, closed on Federal holidays.
Photo by JanetandPhil on flickr
You should follow me on twitter here.