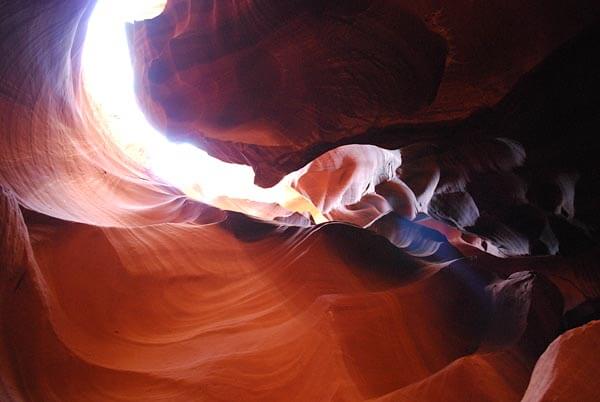 You may not realize it, but you've probably already seen Antelope Canyon in Arizona. This stunning natural rock formation is one of the most photographed canyons in the country and has been in numerous films and textbooks. (And its natural beauty will automatically make you seem like a very talented photographer as well, so bring your camera!) Yet pictures cannot do justice to this impressive monument. Antelope Canyon, located just outside of Page, AZ on Navajo Nation land, is a convenient stop for many visitors to Arizona. Partly because traveling to the canyon is so easy, but certainly more for its exquisite beauty, it is the most frequently visited site in the Southwest. Due to the high number of visitors, though, you'll want to make a reservation well before arriving.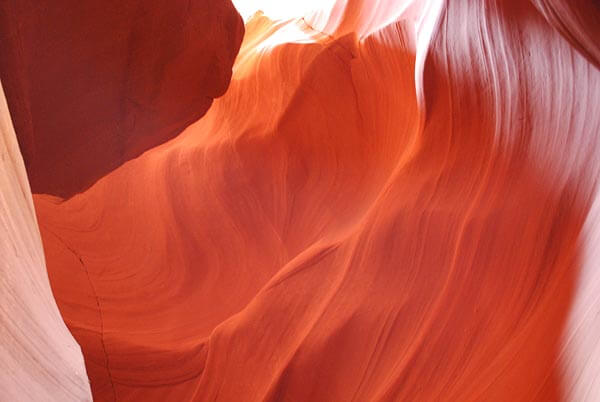 Because of its ever-increasing popularity, there are several fees one must pay for access to the canyon (roughly $20), but the experience is certainly worth the price. Throughout the day, the sun's changing position plays with the light in the canyon, creating a dynamic, fluid picture on the canyon walls. To see the strongest beams of light, visit the canyon at midday when the sun is directly overhead. The water that carved out the graceful canyon from the orange-red rock still flows thoughout the canyon, creating a kind of soothing, musical echo. Yet that water can also be dangerous and has, in past years, caused deadly flash flooding in the lower section of the canyon. For that reason visitors to the canyon must be accompanied by an experienced guide. But don't let that trouble you. The upper section of the canyon is easily accessible and has only a very minimal risk of flooding, but provides as much scope for the imagination as any other part of Antelope Canyon. Be sure not to miss this unforgettable natural wonder.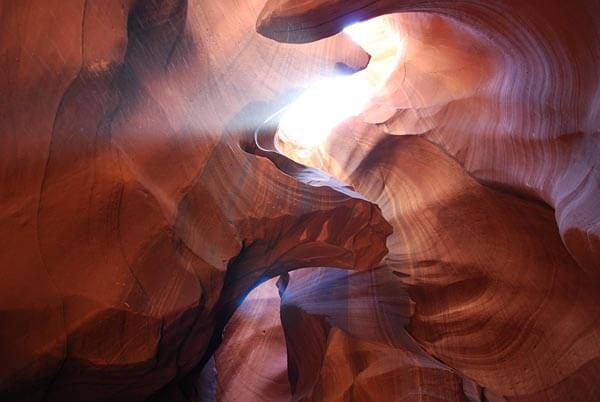 Antelope Canyon location and details
Entrance Fee Station Hours (Mountain Standard Time year round)
Peak Season (late March-Oct) 8:00am - 5:00pm, 7 Days a week
Off Season (November -early March) until 9:00am - 3:00pm, 7 Days a week
Advertisements:



Park Office located near LeChee Chapter House
Open Mon - Fri 8:00am - 5:00pm (MST)
The office is located next to the LeChee Chapter House, which is three miles south of Page, Arizona on Coppermine Rd. (Navajo Route 20).
Entry Fees
General Admission - $6.00
Ages 7 or younger - Free
Note that all access to upper and lower Antelope Canyon is by guided tour only. Tour fees are extra and not included with general admission fees.
Photography:
2-Hour Limit per day- Upper Antelope Canyon
4-Hour Limit per day - Lower Antelope Canyon
Photos by Werkmens on flickr
You should follow me on twitter here.