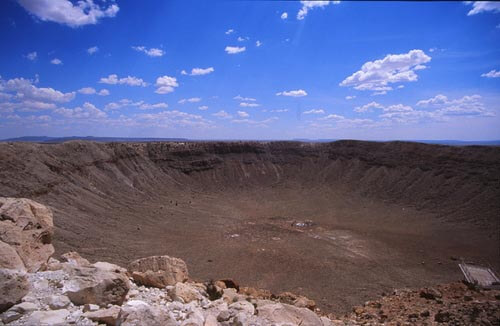 Standing at the edge of the worlds best preserved meteor crater in the Arizona desert gives you a feeling for both the vastness of the universe and the age of the Earth at the same time. It is not the crater of the meteor which killed off the dinosaurs, but the impact must have been almost equally violent - even if it was an isolated event.
Advertisements:



50,000 years ago, an asteroid crashed into the Earth at the speed of 26,000 miles per hour. The impact was larger than any atomic bomb tested so far - it would take 20 million tons of TNT to make a similar explosion. The scar from the violent explosion is a mile across, and spectacularly situated in the desert makes for an amazing view.
Today, the crater is open to tourists. You can walk around the 550 feet deep, 2.4 mile circumference crater on specially prepared observation trails. The well-planned visitor center, with air conditioning and a movie theater showing recreations of the impact, is open between 8 AM and 5 PM, longer on Memorial Day but closing earlier on Thanksgiving.
Seeing the crater makes you want to take a piece of it home, but that is not allowed. However, in the gift shop adjacent to the visitor center, you can buy rocks and unique gifts from this natural wonder.
While the crater is usually known as the Meteor Crater, the formal name is Barringer's Crater, and it's commonly referred to as the Winslow Crater as well.
Despite the vastness (and emptiness) of the Arizona desert, this natural wonder is unusually accessible, situated on the I-35 only 35 miles from Flagstaff, and 20 miles from Winslow, the nearest city.
Meteor Crater location and hours
Meteor Crater is located off I-40 at exit 233, then 6 miles south on the paved road. 35 miles east of Flagstaff, 20 miles west of Winslow, in Arizona, USA
Visitor center 8:00 am to 5:00 pm daily
Photo by j.bautista on flickr
You should follow me on twitter here.