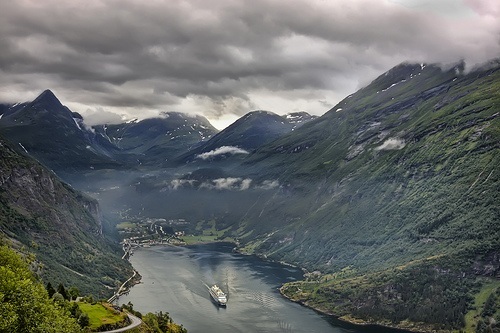 The amazing beauty and immense majesty of the Norwegian fjords is a natural site that is practically unparalleled in natural formations. Imagine immense walls of rock mountains rising up the sides of ocean water in channels that have been dredged by massive glaciers during the end of the ice age. Carved from the solid rock of Earth as if by giants, these formations are filled with natural wonder and majesty.
Advertisements:



Fjords are found in other areas of the world besides Norway, but nowhere else in the world is the Fjord more represented than in Norway. A great deal of the Western coastline of Norway is cut into by these sweeping channels of ocean water bordered by cloud dusted peaks, like oceanic canyons.
Here is a list of some of the amazing fjords that you will find in Norway. The second longest Fjord in the world, Sognefjord, is found among the Norwegian fjords, reaching an amazing depth of just over 1,300 meters. Geirangerfjord is among the most popularly visited of all the Norwegian fjords, and is deemed a UNESCO World Heritage Site. Hardangerfjord is also the location of the Folgefonn glacier, which covers 220 square kilometers and was named a national park in 2005.
While there are really too many fjords in Norway to give a comprehensive view in such a short space, they are really something to see. They will take your breath away as you travel down them in a ship, or perhaps take a journey along a trail to the tops of one of the many peaks that dot the sides of these amazing testaments to the power of nature.
Photo credit: finbar_mad on flickr
You should follow me on twitter here.