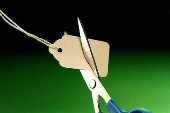 In a move sure to save travelers money, Priceline.com is eliminating airline ticket booking fees on all published air fares.
Advertisements:



This means that priceline.com customers will pay less for their tickets than they would at other major full-service online travel reservation services, including Expedia, Travelocity and Orbitz.
"Today's announcement reinforces priceline.com's brand position as the online travel service with the best deals," said priceline.com President and Chief Executive Officer Jeffery H. Boyd. "We already offer consumers an easy, one-stop way to do comparative ticket searches for most popular airlines, flights and prices. With our new no-booking-fee policy, priceline.com customers can get the best possible price on their tickets no matter which flight they choose."
The best part of this is that you don't even have to go through the Priceline.com site to get these fares. They'll automatically show up in Kayak.com's meta search engine
, or at CheapTickets
, giving you an even better chance to get a fantastic air ticket deal!
You should follow me on twitter here.