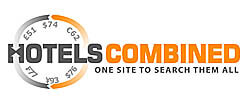 Hotelscombined.com will save you a great deal of money on your next hotel booking. I'm a consummate bargain hunter with hotels, and the site certainly delivers for me!
Hotelscombined.com goes further to find deals
The hotel deals search digs through more offers than any other website for you. A lot more offers in fact, as a piece of research from 4hoteliers.com shows. The research looked at 3 sets of travel dates across 10 popular locations. In short, Hotelscombined.com compared at least 20% more offers and found over 40% more available rooms.
Advertisements:



At short notice, they did even better with double the number of available deals. Which works well for the low low prices I'm always hunting for!
Serious savings on hotel rooms
I've already used Hotelscombined.com for 3 holiday bookings. My recent trip to Venice did get the best result, with a saving of $92 for 5 nights compared to Travelocity and Expedia searches. Not to be sneezed at!
During Christmas break this year, Hotelscombined.com will save me $57 for 7 nights. This is in very competitive Tenerife, so a definite result. It's another visit to Italy in January, where my booked room in Pisa was a small $14 cheaper for 2 nights. Still, that's a cheap meal and some wine paid for without any extra effort on my part.
Why I really like Hotelscombined.com
I enjoy traveling comfortably while staying within my budget. Which is kept low to allow further trips! Hotelscombined.com helps me achieve this, without adding hours to my travel planning time. So far, the site hasn't failed in saving me money and I will keep returning to check for further great hotels deals.
You should follow me on twitter here.