Welcome to the 3rd installment of the eyeflare.com events calendar for 2009. We're listing one special event each month for 2009 that you want to plan some of your travels around. This part covers July, August, and September of 2009 and we've included some toe wrestling in England, the messy 'La Tomatina' in Spain, and the raucous German Oktoberfest.
If you missed the other parts, here they are: Events calendar 2009 Pt 1, and Events calendar 2009 Pt 2.
July
Advertisements: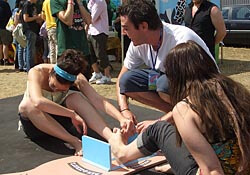 Ashbourne, England: Surprising as it is, two wrestling wasn't included as an Olympic sport for the London 2012 Olympics. That doesn't discourage a pub in Ashbourne, Derbyshire, which holds the World Championship every year on 22 July.
During the championship, the wrestlers toe off at the toedium, lock big toes, and frantically try to wrestle the opponent's foot to the ground. Here's a video of the wrestling action. The winner gets both the World Champtionship title and the right to use the "Toeminator" title. Visit the Bentley Brook Inn on 22 July 2009 to watch the madness.
August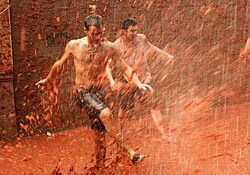 Bunyol, Spain: One of the world's biggest and certainly messiest food fights. On 27 August each year, the streets of Bunyol are the battleground for the festival of La Tomatina. Trucks dump 40 tons of ripe squishy tomatoes in the main square for residents and visitors to pelt at each other.
The fun begins at 11am with the launching of 5 tomato-packed rockets. Then, for the next two hours, it's one huge tomato fight – it's etiquette to squash them before throwing. Then everyone washes and changes, the streets are hosed and La Tomatina continues with wine, music and feasting. Tomatoes, presumably, are off the menu. More information at www.latomatina.org.
September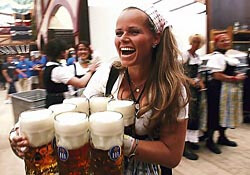 Munich, Germany: Beer festivals don't come any bigger than Munich's 16-day Oktoberfest, where there's more lederhosen than you could poke a stick at. Last year 6.2 million people dropped in, consuming 6.7 million one-litre tankards of beer, called Ma, along with 104 oxen and an unthinkable amount of sausage and sauerkraut.
Saturday 19 September is the start date for the 2009 celebration and the party goes on until 4 October 2009. Proceedings always start with a keg of Oktoberfest beer, specially brewed for the occasion, tapped by the mayor of Munich. Local breweries serve the beer in a bierzelt, a beer tent that holds thousands of happy drinkers. More information at www.oktoberfest.de.
Next post
We'll shortly publish the next post in the series, covering October through Decembers 's events. To make sure you don't miss the events, subscribe to our RSS feed now.
Share your favorite events
Are there any events during July through September that you feel have to be visited? Please let us know in the comments below!
You should follow me on twitter here.