The second of our calendar of events for 2009 that you may wish to plan some trips around. We have a fantastic Thai festival, cheese rolling (?) in England, and a buggy festival in Louisiana. We've split the calendar into 4 posts (click here for part 1 of our events calendar), and this second part covers April through June 2009:
April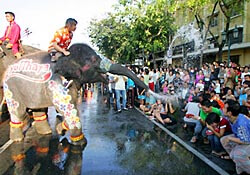 Bangkok, Chiang Mai, Pattaya, Phuket, and other towns in Thailand: You're guaranteed to be very wet during the Songkran Water Festival from April 18 to 19, 2009. Songkran Festival is the traditional Thai New Year, it is the time when Thais go the Temples offering food to the Buddhist monks, freeing birds or turtles back into the wild (It is believed if you free a turtle it will give you a longer life), houses are spring-cleaned, scented water is sprinkled on their elders as a sign of respect!
Advertisements:



Things have become a bit more raucous since the festival began though... This internationally known festival sees water fiends bring out every weapon in their arsenal: Buckets, water balloons, garden hoses, and super soakers are used to gleefully drench anyone within firing range. Children and adults alike stand along the roadside to douse passers by with water and talcum powder. The backs of the trucks are filled with large barrels of water which is promptly dispatched over everyone they pass by as they drive slowly along the streets. It's the hottest season in Thailand though, so getting wet and cooling down is a blessing.
May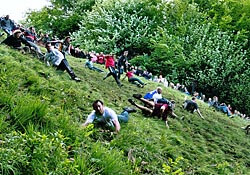 Cooper's Hill, England: Cooper's Hill Cheese Rolling and Wake takes place in Gloucester on the last Monday in May, a public holiday in Britain. Dozens of competitors race down a 45 degree gradient in pursuit of a 4kg double Gloucester cheese. It's a dangerous business and in 2004, 21 runners were injured. There are five downhill races – one for women – and some uphill ones too (don't ask). The winner gets to keep the cheese. The wake, if you wondered, takes place in the pub afterwards.More information at www.cheese-rolling.co.uk.
June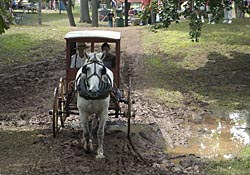 Church Point, Louisiana, USA: Held the first weekend in June (Thursday and Friday night and all day Saturday and Sunday), the Buggy Festival includes a Sunday parade in which many townspeople ride in buggies or other horse-drawn vehicles. At the festival site in the town park, Cajun musicians perform continuously on the festival stage, and Cajun cuisine is on sale throughout the weekend. There are also other events, including a trail ride, a Cajun French accordion contest, and a French speaking contest. Great for kids, and those who like Cajun food. More information at www.churchpointbuggyfestival.com.
Next post
We'll shortly publish the next post in the series, covering July through September's events. To make sure you don't miss the events, subscribe to our RSS feed now.
Share your favorite events
Are there any events during April through June that you feel are musts to attend? Please let us know in the comments below!
You should follow me on twitter here.