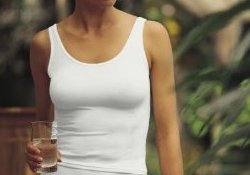 Ex Officio makes a range of quick drying clothes perfect for backpacking, lightweight travelers, or long term travel. I've covered their quick drying underwear range before, and wanted to highlight their useful t-shirt range.
There's a men's plain t-shirt, the Give-N-Go Stretch Tee Shirt, as well as a women's tank top, the Women's Give-N-Go Moisture-Wick Tank Top. Either cost from $20 to $36, but are well worth the money as they take up almost no room in your bag, and can be washed in less than 5 minutes and dried overnight.
Advertisements:



The sizing for both items is on the small side, so if you're used to roomy t-shirts, get a size bigger than normal. This is especially true for the guys, as they do mean 'stretch'. It's a tight-fitting t-shirt, and looks like flattering if you're in great shape.
Highly recommended for anyone that likes traveling light, or will be traveling for weeks or months at a time.
You should follow me on twitter here.