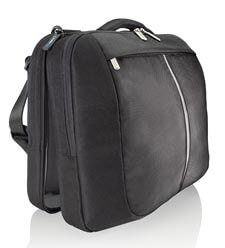 Belkin just introduced a new TSA-approved FlyThru laptop case, which means you no longer need to remove your laptop from the bag in the airport security checkpoint line. That should make flying just that little bit more bearable for a business traveler.
The FlyThru laptop bag isolates your laptop on one side, allowing TSA agents to easily identify it through a clear window. Accessories are kept organized and secure on the other side of the bag, sending you through security faster. To be TSA-approved, the TSA X-ray operator has to be able to see through the laptop, with nothing obstructing it. So no metal buckles or similar can obscure any part of your laptop.
The FlyThru bag has 3 sections; one for the laptop, one on the front, and one main section for your paperwork and other larger items that also hides a small internal zippered pocket. The pocket on the front is expandable, making it perfect for cramming in any last minute things you decide to carry on your flight.
Belkin developed this security checkpoint-friendly bag, which meets the guidelines set forth by TSA, with the business traveler in mind. Just unzip the case and lay it flat on the screening belt. Thoughtful design elements like the zipper position lets you grab your bag right off the belt and head off to your gate, without anything falling out.
Details of the FlyThru Laptop Case (F8N094)
Smart design isolates laptop for easy screening
Secure compartments organize accessories
Designed with minimal metal zippers and hardware for screening clarity
Durable with ample storage, ideal for busy professionals on the go
Fits most standard and widescreen laptops up to 15.4"
RRP is $59.99
Advertisements:



Amazon carries a number of bags from Belkin and others, so head over there to shop for Belkin bags from Amazon.com.
You should follow me on twitter here.